DutchCourage
All about Dutch Courage
For our new visitors a short introduction. Emiel, Mirjam and – last but not least – DuCo are 'Dutch Courage'. Of course we know Dutch Courage means drunken men's courage, but we feel far too many people take themselves far too serious. And wouldn't you agree that the best ideas always come to you with a glass of wine or beer in your hand?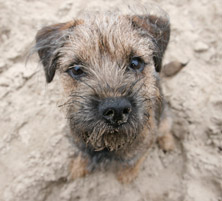 Emiel was born in 1968 and at the moment of writing is still 38. I am from 1964 and living proof that life indeed begins at 40. Emiel is really a man of all trades and occupies himself with building our Land Rover Defender 130 off-road camper, advising companies on ICT related issues, building a website for other overlanders or organizing a big renovation of a house, you name it.I
I work for the Arnhem municipality three days a week and during the rest of the week try to finish my Psychology study at the Open University. This takes up a lot of my time but is mostly fun to do. I also enjoy cooking, especially trying new recipes.
And then there are of course our two border terriers DuCo and Syma who both need our attention. Which they get plenty: every day we take them out twice to the heath or the woods to run around for an hour.