2011 tour
Europe

Great endings and new beginnings
April 1 – April 13 Velp – Krumpa – Dresden- Krakow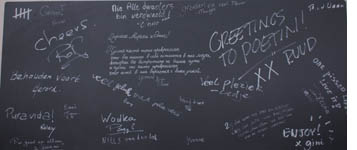 On April 1 our holiday officially starts, that is, we are not expected to turn up at work. But unfortunately, it does not mean that we are ready to start our great adventure. Mirjam made the solemn promise to herself (those are always the worst!) that she would finish her studies (bachelor psychology) before leaving on a next big trip. Well, she did, but don't ask how. One final exam on April 5, discussing the thesis on April 6, making some adjustments and improving some writing and sending the final paper in on April 7. Of course Emiel also had plenty to do. Arranging the visas, collecting the passports, driving up and down buying stuff we feel we absolutely need and spending many hours with Paul (PSP Campers) working on the car. And the last few days in front of the house fixing, drilling, adjusting, packing, talking to the neighbours and curious passers-by.
So we did not manage to leave on April 9 as we had planned, but considering all the work we've done, April 11 is pretty good too! Of course such minor details should never stand in the way of a good party. We arranged to camp at Leon & Claire on April 9, and it would be our first stop on the way to Mongolia. But why skip a good party just because you leave a little later than planned? The wodka was maybe a bit too good for one or two friends… considering the condition we found them in the next morning. But we surely had a good time!
That Monday there are still a few last things to arrange. First stop: the vet, we need a 'declaration of health' for our two border terriers Duco and Syma who are our travel companions for the next 6 months. They are both in super-conditions, ready for the Olympics! Then some spares from the Land Rover dealer, cleaning the house, and well, just leave. Funny feeling, leaving was very different last time. One more stop at the ANWB (the Dutch RAC) for our international drivers licences , and settling a debt at HT suspension in 's Heerenberg and then it is really done… we are on the road again!!
The morning has already passed and it is early in the afternoon when we head towards Dresden. 700 km away, so we already decided that would not be feasible today. But our GPS is optimistic and promises we'll be there around 19.30 hours. It takes us several hours and five hundred kilometres to realize that what seems too good to be true, mostly is too good to be true. Our GPS is still living in wintertime! But what a day to start of trip, the sun is shining, it is warm and nothing or nobody is going to spoil our good mood. We check our map and GPS and find not too far from where we are a couple of small lakes. Looks like a good place for a campsite or a bushcamp. We find the place, drive around for a bit and suddenly find Karl Lehmann's place who exploits a 'Pension" and a small campsite for campers/mini buses. Even before we are settled in he wants a picture of us and the car and invites us for a drink later that evening. Well, there's an offer Dutch Courage of course cannot refuse ☺ And so passes a very pleasant first evening and night. If this is an omen of how many friendly and hospitable people we are going to meet, than it will be quite all right!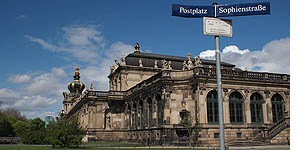 The next morning Karl has left a bag with fresh warm 'brötchen' hanging on the car mirror; that's the way to start your day (and breakfast of course). The weather however has changed, there are heavy clouds and a strong wind and the temperature has dropped considerably. After a windy morning walk with the dogs we get ready to leave and finish the last leg towards Dresden. Many people already told us not to miss this beautiful old town, and they were right. There is still a lot of restoration work going on, but many buildings and squares are already restored and really worth your time if ever you are in the area. We walk around for a couple of hours, and when there is another vicious shower eminent, retreat for coffee and sandwiches.. it's a hard life! At the end of the day we find a campsite near the town, no more miles today, tomorrow will be a day of covering some distance.
When the next morning arrives, we find it is a good day to drive. It's cold and miserable weather. We pack our stuff, walk the dogs (they don't like it much either) and decide to take the highway through Poland till Krakow. We realize we skip much that is worthy of our time and attention, but then again Poland is not that far and a easy holiday destination. For now we want to push on towards the Ukraine border. The road is really good, and we put another 500 km behind us before we stop at the campsite in Krakow. At 16.30 is it a good time to stop and we've got internet so we have time to write and update the website.
Now it really begins!
14 - 22 april – Ploen (Poland), Tjeropil, Uman, Pavlorad (Ukraine), Tangarog, Ust Donetkiy, Tormosin, Volgograd (Russia)

Thursday April 14
The day starts with a short (or anyway, that was the intention) visit to the local Land Rover dealer. In our small supply of spare parts we miss the drive belt, it was out of stock at home and it keeps nagging in the back of our heads that we still need to get one. We find the address (thanks to our GPS) quick enough and they are really helpful. The don't have it right there but in some other warehouse in Krakow there should be one. It will only take 15 minutes to fetch it. Of course 15 minutes turn into an hour and 15 minutes, but that is just how these things go. With a drive belt securely tucked away we stop for some fresh bread and vegetables. The morning is drawing to a close by the time we finally head towards Presmysl. So far the roads have always been fairly quiet but since yesterday afternoon they are packed with traffic, lots of lorries. Progress is slow until we come to a complete stand-still. If the behaviour of the locals is anything to go by, we are going to be stuck for quite a while. Instead of waiting it out, we decide to find our way around it over back roads. It turns out to be an excellent plan, actually it is much nicer driving, but it just takes so much more time than the highway (or what passes as one). But we get a good view of Polish village life. The houses are mostly traditional but in pretty good state. All have little gardens, though Polish apparently are not great gardeners. Some grass and scrubs that is as far as it goes, sometimes a little vegetable patch. The most remarkable thing we see are two newly build houses that are plastered with saucers cut in half. Quite special! Another thing that strikes us that on the road the Polish like to push on. Also through the villages they have no problem driving 80 km/hr. We take it a bit slower. So much so, that around 4 pm we decide that we are not going to make it to the border today. It is at least another 2 hours drive, we have no idea if the border post is open all night or closes at 6 pm. And we feel arriving with two restless, hungry dogs (both for food and attention) might not be the best plan. We don't know how long all the formalities are going to take, but we always reserve a couple of hours for filling out forms, waiting time, more forms to fill out and more waiting. Duco en Syma are generally very well behaved in the car. The look outside when we leave or slow down, and get comfortable once we are on the highway and they know it's going to be a while. Before we leave in the morning we take them for a nice long walk and in the afternoon, between 2 and 4 pm, we stop for a lunch-, walk- and pee-break. If it takes longer they get restless and really excited every time you stop or slow down. Then you know it is really time for a break. Because of the delay earlier, the break has been postponed and they are beginning to let us know. Time for a stop, and we decide to call it a day. Tomorrow we will leave early for the border.
Easier said then done. The houses are very close together and there is hardly and wasteland in between. All the little roads we turn into eventually lead to a house, with no possibility to drive off the road. It takes several attempts but finally we find a piece of woodland. Cleary one where logging is going on but we expect to be up and away by the time the loggers resume their work. We drive into the woods, find a side road that looks like it has not been driven on too recently and decide to give it a try. After we have walked and fed the dogs, and made ourselves comfortable with a glass of wine, we get a visitor. A forest officer or something like that. Emiel walks up to him and asks if he speaks any German or English. He does not. He starts to speak in Polish (probably telling us to get lost) but halfway through a sentence realises we are a hopeless cause. He shrugs his shoulders, turns around and leaves. We decide to take it as official permission to spend the night.
Friday 15 April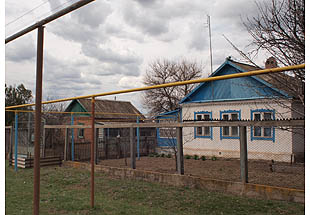 We wake up early. The clock still shows the same time as in Holland, but we have already driven east for some time and dawn is even earlier than at home. In the distance we already hear the chainsaws and lorries, these guys start really early, it's 5.30 am! Time for us to leave before they block the exit! A few kilometres down the road we find a suitable place for coffee and breakfast and a morning walk. But it is still early when we arrive at the border. The first part is quick and easy, but that is only to exit Poland. On to the Ukraine colleagues. Car and passports are checked (you don't need a visa to enter the Ukraine), questions asked (how long will you stay, where will you exit the country). The dogs and their passport also are checked. The official want to see a certificate stating the dogs are healthy. There is exactly this statement in their passports but he wants a paper with a seal and stamp, or something like that. He keeps repeating the same two words, we keep replying by pointing at the passports. In the end he gives in, stamps the paper we were handed earlier and tells us to go. Emiel faces another challenge because we realize we have not taken all the car papers that we should have. We did not bring the part that states we own the vehicle, how stupid!! On our first travels we had a 'carnet de passage' and this was always enough to cross the border. We'd better find a solution how we are going to tackle this at the next border crossings. For now the problem is solved, after some conferring they decide to believe him and 45 minutes later we enter the Ukraine.
Right away you can see you've entered a different country. The houses are small and look poorly and the road is just terrible. Potholes everywhere. Building a road is one thing, maintaining it is quite another. We read in our Bradt travel guide that the economic crisis hit hard in the Ukraine and many building projects were stopped half way or postponed. Apparently there is also no money to keep the roads in good order. The are people everywhere carrying out emergency repairs, but the way they ado it is so primitive that you know it is not going to last even to the end of summer, let alone the winter. It clearly stresses the point how important good roads, or infrastructure in general, is for a county. The comparison with some African countries is easily made. That does certainly not mean that everyone is poor. Also here are plenty of luxury cars (you wonder how they keep them in one piece) and supermarkets with everything you could want to buy. But for the most part of the population life must be a struggle.
We don't have munch time (because of the validity our Kazakhstan visa) to stay long here. So we take the road that on the map seems the biggest from west to east. Three days we drive with only a break for lunch and some rest. Driving is very tiring because you constantly need to concentrate on the surface. One moment the road is smooth and easy, but there is no guarantee that in the next 100 meters there will not be another pot-holed stretch. It doesn't really matter whether you drive on the highway of on the more provincial roads. The worst stretches are always around and in the towns and villages. It is like there the municipality is responsible for maintenance and they don't want to spend any money, or simple don't have it.
Some things that we notice while crossing the Ukraine:
- Whoever is manufacturing white paint is making a lot of money. Everywhere along the roads people are painting trees, poles, guard rails, curbs, everything.
- Lots and lots of people are pruning trees and scrubs, setting fire to the cuttings. It is like you have to take part a couple of days a year if you are being a good citizen.
- Almost all houses look alike, small, square with two front windows, and sometimes three. A little plot of land, mostly with a vegetable plot and a fence.
- Spring is not as far as at home. All the trees are still bare and only the willows are blooming.
- All busses are leaning over to the right.
- Every day the temperature is 10 degrees, at night when it is clear it is sometimes freezing cold.
- Litter, litter, litter. Unbelievable what a mess everywhere. It is a real problem to produce the waste that a modern society does (with lots of plastic and disposable diapers) but not have any reliable waste collection system in place. You can image that growing up here it is completely normal to just dump your rubbish when- and wherever you feel like it.
- At the entrance of any village and town there are huge Sovjet like concrete 'things' showing the name of the village and often some statue.
- Still lots of statues of Lenin everywhere.
- Beautiful churches with blue roofs, white walls and golden (or so it seems) union shaped domes. Lots of time, money and care go into these.
- In the bigger city the extremely sad Sovjet apartment blocks in a terrible state of maintenance.
- Most stray dogs are small and actually don't look too bad, although there are also a few walking skeletons. They seem pretty good, but we decide not to let Duco and Syma play with them.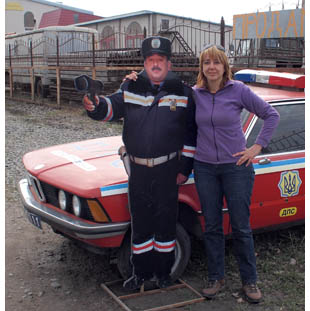 - Lots of police along the roads, and everyone signals to everyone that there is another checkpoint coming up. It must be really frustrating to be a policeman, because after the first loser that gets caught speeding, they can only catch another one if there is hardly any traffic.
- Fields so huge you can hardly see the end. And no farms! Surely there must be some, we do see farmers. We wonder how it is nowadays after the Sovjet period. Are there independent farmers or are they just workers for some company or still the state??
- In summertime this route must be so much more pleasant. On many of the fields they grow sunflowers. It must be a marvellous sight in August.
- We find there is little variation in the landscape along the route that we take. Outside the villages it is almost all agricultural land. To try and see a different site of the Ukraine at one point we turn south because the map shows a green line next to the road, meaning a scenic drive. We are still wondering what these guys were thinking, it was exactly the same as the 1000 km before.
- It is a great country for bush camping. We never have to search long to find a fine spot, away from the road and villages. Nowhere you are disturbed or does anyone care you are camping
- If you manage to get into contact with people, they are really kind and helpful, but if they think they cannot communicate with you they just turn away. They are not too keen on making contact, you will have to initiate it. Of course there are always exceptions.
- Ukrainian (young) women love stiletto heels, short skirts and lots, and I mean lots, of make up. The boys and men on the contrary don't seem to care much about their looks and are dressed in shabby clothes or track suit.
And at last, the iron clad rule of sharing a campervan with two dogs: sooner or later everything will end up in their drinking bowl.
Monday 18 April
It is almost 4 pm when we reach the Russian border. Maybe a little late. but too early to find another camping spot and wait it out until the morning. So we decide to go for it and find a spot at the other side of the border. We cross the border in the south of the Ukraine at Novoazovs'k. Exit facilities are simple and quick, even though again the ask for the missing car papers, but they don't make a big deal out of it. On to the Russian officers. First fill out a form in twofold (one for entering and one for exiting). This one is simple, because it is in Russian and English. Passports are checked, visa checked, all seems satisfactory. Checking the car, opening doors, one or two cupboards, but nothing like a thorough search. They are not interested in Duco and Syma. They think they are lovely dogs but don't need to see any papers. That is good. Next office, filling out a paper that, we find out later, has to do with the car. This is a problem because it is in Russian only, and even though we have tried to learn something at our Russian classes. this is way beyond our ability. In the end one of the officials fills it out for us. We have to sit in the car and wait. Of course also here they ask for the car papers that we don't have. Emiel's brother Onno has scanned and emailed them to us, and we have it on the computer, but not the official ones. It takes a lot of convincing, repeating and waiting. Pointing to the computer screen, look here it is, the official document is at home. We are probably lucky it is almost 6 pm and they want to go home. In the end the lady who has been given our papers just sighs and stamps the paper. And right away shows Emiel a handwritten note that this service costs us $ 10. Euro's are also good.... It is against our principles, but we pay up. We don't have much choice and to be honest we are really happy that for 10 euros we have solved our problem. But it is becoming painfully clear that we have to arrange something to get our papers before crossing another border. We cannot expect we will manage to crawl through the eye's needle every time. And then we really have a problem and can leave the car between two border posts until we can show them our papers.
So it's 6 pm when we finally enter Russia. This part of Russia is one hour ahead of the Ukraine, so actually it is 7 pm. Time to call it a day. But not before we have left the border behind for at least a couple of miles. Half an hour later we turn off the road and find a perfect spot to spend our first night in Russia in between the endless fields.
Tuesday 19 April

Contact with the home front to see how we are going to get our papers. With DHL to Volgograd, the biggest town on our route to Kazakhstan, seems the best and quickest solution. Onno and Anita take care of everything and hopefully on Friday we can collect the package at the DHL office in Volgograd. That is fast, but we had planned to be in Volgograd on Wednesday, latest Thursday and then straight on to the Kazakhstan border. So we are forced to slow down. Not a bad thing in itself, but it does eat away the time we get to spend in Kazakhstan. It seems to be very difficult to get an extension on the visa. Another complicating factor is that we are now going to be longer then 72 hours in Russia, which means we have to get registered. A bureaucratic relict of Sovjet days I guess. But first we enjoy a wonderful sunny lazy morning with a long walk and a spring cleaning of the car. Now on to Rostov-Na–Donu, the first major city on our route and try to find out how this registration thing works. Normally you would be staying in a hotel, they would take care of it for you, but since we are camping we must do it ourselves. Back on the road, we are stopped at the first police checkpoint. Emiel has to follow the officer into his little office. Appears that we were driving with no lights on, and it is mandatory to have them on at all times. The officer first wants to keep his passport, we have to go and find a bank (we don't yet have any rubels) and return and pay the fine to him personally. I honestly don't know how he does it, but somehow Emiel manages to persuade him that it is totally unnecessary to give us a fine, that we of course from now on will always drive with the lights on (you bet you!) and he walks out of it with only a firm handshake and all our documents safely in his possession.
In town we first look for a bank and internet. We find both, but also on the internet we don't really get much wiser how this registration works. The helpful guy from the internet café finds us the address of the immigration office where we apparently have to go and points out where to find it. Within walking distance. Good! But that is all that is good about it. A totally disinterested official who clearly does not want to deal with two tourist who speak only some rudimentary Russian. He hands us a note with an address and makes clear that is where we should go and basically tells us to piss off. The address is a long way away and we have had enough of bureaucratic hassle for one day. We'll try again in Volgograd, maybe we have more luck there. We might have to stay in a hotel there anyway and then they can take care of it for us.
It is funny walking with Duco and Syma in the city. Occasionally we have seen people with dogs on a leash but it is far from common. Two dogs, and two foreigners (a woman on walking boots in the city could never ever pass for a Russian lady) is quite a sight. Many positive reactions but also some looks that express our sanity is seriously questioned. We find our way out of the city and drive into the countryside. We want to drive over back roads to Volgograd to arrive there Thursday afternoon.
Wednesday 20 April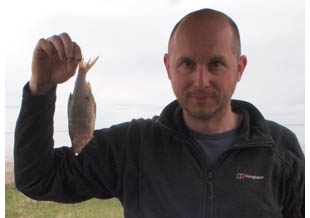 After a good night at again a pretty spot, the weather has changed. Yesterday we had about 20 degrees, now it is heavily clouded, under 10 degrees with a strong wind. Tugged away in our coats we take our morning walk and we are back on track pretty early. Ever since we hit a particularly nasty pothole in the Ukraine one of the springs at the back makes a terrible irritating noise. It doesn't look like it is a really big problem but we would like to get rid of the screeching sound. On a quiet little back road (it needs a firm underground) Emiel jacks up the car and turns the inner spring to see if this makes a difference. Not really, it seems when we drive on. We decide to wait how it develops over the next few days. We only drive a couple of hours today and stop at the Tsimlyanskoe lake. We have a nice view over the lake, watching the fishermen. We spend a relaxing afternoon with reading, writing, watching. Around 6 pm one of the fisherman stops for a talk and leaves a fish for the dogs, which they clearly don't want to eat. Syma is staring at the fish in his bowl with a expression of utter disgust. Also when we are eating our dinner we get two more visitors who want to see what this funny car is all about. It is a shame communication is so difficult but still it is an animated conversation, helped by our offer of a glass of vodka. The offer is not declined.
Tomorrow on to Volgograd, we'll see how we fare with hotel and / or registration.
Thusrday 21 April
in the middle of the night we are awakened by an sms from DHL. Our documents are held up for some customs check. Not really encouraging news, we'll have to try and find out what this means tomorrow. But it does disturb our sleep. We are awake early and packed and ready to leave around 9 am. We are still hoping, against all odds really, that we can pick up the documents on Friday and then can quickly move on to Kazakhstan.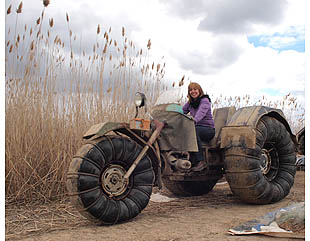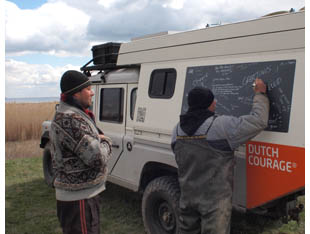 When we have covered about 70 km (on a good road fortunately) Emiel suddenly realises we have left the levellers behind, the plastic yellow wedges that we use to level out the car. Just two simple plastic blocks, but not likely to be available anywhere the next couple of months. We turn back…
After an hour we are back to where we came from, but no yellow wedge in sight. Shit, 140 km for nothing! Better check with the fishermen if maybe they have taken them. And indeed we spot them near their living quarters, with a bike neatly parked on top of them. One of the fisherman we spoke to yesterday has seen us return and is coming towards us and is quite happy to return them to us, especially when he learns we have driven so long to get them back. They seize the opportunity to make some pictures of our car, first one guy, then the other in front of the car, us in front of the car. We take some pictures of ourselves on the intricate trikes they have to drive into the lake and of course a picture of them when they are not looking. They write something (probably something rude ;) on our blackboard. One very friendly guy gives us his phone number, we should call him when we return from Mongolia. Telling them we won't be taking this road home doesn't really impress him, so we just leave it at that. A happy ending anyway and for the second time we set out for Volgograd.
Around 4 pm we enter the city and get messages from home about the status of our documents, Onno is trying hard to find out what is going on. We look for a hotel. Without a city map, an address is pretty useless. Even finding the city centre is an accomplishment, the city is huge! In line waiting for the traffic lights we ask another driver some directions "straight on, then to the left" he shouts and signals (and luckily we know the Russian words). When he has dropped his passenger, he overtakes us and signals to follow him. He guides us the hotel Intourist and waves goodbye. Some people are just really so nice! They have a room for us, the dogs are not a problem, and they will take care of the registration. So that part of the challenge has been tackled. We move in to room 519 and soon learn that we will be staying a little longer than we hoped. When we are lucky, our package will be here on Monday. The Russians don't work on Saturday and Sunday.

It really sucks, but that is just the way it is. Probably Volgograd is not on top of most people's list to visit for a long weekend, so now we are going to find out if they are wrong. First and foremost the city is known for the terrible battle that took place here in world war 2, which took the lives of over one million Russians died (and marked the beginning of the end for the Germans). In the surroundings there is not a lot to see or do, so we are going to be in town for the weekend. Luckily the centre is very green, with lots of small parks, which does help when you have two dogs with you, and the weather is very sunny albeit still cold. Duco and Syma are on their best behaviour and seem to be able to get used to 'hotel living'.
Kazakhstan

Big, empty, dusty, beautiful and friendly Kazakhstan
22 April – 4 Mai: Volgograd, Krasny Yar (Russia), Atyrau, Bayghunin, Aqtöbe, Aral, Duirmentobe, Shornak, Shymkent, Zhabaghly (Kazakhstan).

22 – 24 April Waiting for the mail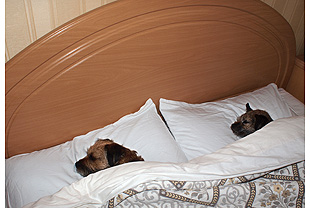 So we find ourselves in a hotel in Volgograd. It is Friday and we are going to have to stay at least until Monday. Being in a big city with two dogs is not the ideal situation. They are not welcome in the museum (one of the few real places of interest) and also in a number of cafes and restaurants they are not allowed. Luckily it isn't all bad and we spend a nice evening in the Japanese restaurant, where the whole kitchen brigade takes turns looking at these funny tourists with their dogs. Also in the, actually rather good, Italian place they like them. In the hotel they soon become the most popular guests and I must say, their behaviour is impeccable. Not a single bark all these days. Sleeping on the bed is also very nice, especially because it is not allowed at home. The city itself is not a bad place to be. It is spacious, clean and green (or more accurately, it will be green in summer time). Everywhere people are busy getting the city ready for the season, cafes are building their outdoor seating areas, trees and scrubs are planted and everything gets a fresh layer of paint. The benches in the many parks are meeting places for all kinds of people, many of them with bottles of beer or other alcoholic drinks. Very often quite young people, not your average homeless guy. In the weekend it is really party time. Everyone is out drinking like it is their last day. Unbelievable how may of them are really, and I mean really, totally drunk. Early in the morning the people who clean up the mess return the city to its clean self.
Close to our hotel is the monument for the unknown soldier and every day they are keeping guard. The changing of the guards is very often, almost every 15 minutes (mostly very young soldiers, they try hard but I don't think they would qualify for Buckingham Palace yet). Also nice to watch to pass some time.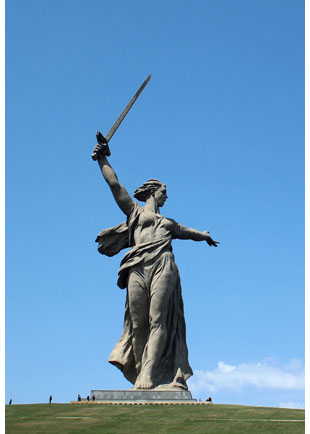 One interesting trip we do make is to 'Mother Russia' a very impressive statue and monument on one of the hills surrounding the city where for 4 months the terrible battle of Volgograd (then Stalingrad) was fought. If you see the monument with the names of several thousands of soldiers that were killed (in total it were over a million) then it really makes you realize what absolute madness war is. In the meantime we try to keep track of the progress of our papers. On Friday DHL says on their website that it has been cleared by the Dutch customs and it is on its way to Moscow. Then we see it has arrived in Moscow but is 'on hold' and DHL is 'undertaking action'. Saturday there is no change and we are starting to get a bit worried We decide to give them a call to find out what 'action' DHL is 'undertaking'. None what so ever we soon find out. "Tuesday we can get back to you. Why don't you phone DHL Russia?" Strange, considering it was handed over to DHL Netherlands and they are an international company so you would expect their tracingsystems are linked and each office should be able to tell us the same thing. We call DHL Russia and they tell us that it is 'on hold' only because they don't work over the weekend. It is scheduled to leave Sunday to arrive in the Volgograd office first thing Monday morning. That is better news and we are really relieved although when Monday arrives we are both feeling uneasy and restless… it is such a shame that our time in Kazakhstan is ticking away. So were are so happy when on Monday 10.30 am we finally have the precious car documents in our hands. Looking back we can say that if you have to wait a few days in Russia, Volgograd is not such a bad place. What is also good, is that you do get a better feel for the country and the people when you are in the same place for a couple of days. You start to develop a relationship with some people and so you learn a little more about their lives and habits. The dogs often are a good reason for people to talk to you and also the Land Rover is always a good conversation starter. And we meet some people that actually speak some English!
25 April -26 April
Finally it is Monday morning and we drive to the DHL office to retrieve our package. Also the road out off the city towards Astrakhan is easily found. We are in a really good mood when we drive south. The weather is still splendid with blue skies and a very pleasant 20 + degrees. We plan to drive almost to the border today and then cross into Kazakhstan tomorrow morning. All goes well and around 6 pm we are where we wanted to be and find another beautiful spot for a bush camp. It is good to sleep in the car again, in the fresh air, especially after all the dry and hot hotel room-air of the last few days. In the morning when we are out on our walk we suddenly hear our car alarm going off. We rush back to the car, which is quite a long run! It is clear we are not in the best condition, we are completely out of breath when we arrive and luckily find nothing amiss. Not a soul around, but a few days later we discover that the tent/awning that is strapped to the roof is untied at one side. No idea though if a person did this and why he would choose such an uninteresting item. It could well be that the branches that we have driven through on our way to this beautiful campsite are the real perpetrators. Only a couple of miles to go to the border and the whole procedure at the Russian site is quickly dealt with. They are not interested in car documents and not even in the registration forms that the hotel arranged for us. Can you believe it, after all the trouble you go through nobody even cares!! The Kazak officials are also very accommodating. One of the guys speaks reasonably English and guides Emiel through the whole process. I have to cross the border / passport control separately and wait on the other site until Emiel and the 'machina' are cleared. And you won't believe it, also here nobody is interested in car registration papers! It is that we know we are going to have to tackle more Russian borders, otherwise the whole thing will have been an utter waste of time. We'll see…. Also the dogs are again not an issue, no questions, no paperwork, wonderful! The Kazak border/custom facilities are very moderns, they even have a camera to take your picture while they are registering you, we've only seen this in the USA before. Just when we think the whole business is dealt with and we can drive on, it appears we have missed a stop sign for the control post of the police. This is of course an unforgivable offence and really warrants a hefty fine. Unless we have something else to offer him, he whispers to Emiel as soon as his colleague is out of earshot. Emiel just acts like he doesn't understand and in the end gets away with giving him one of our coasters. We are free to go, we are in Kazakhstan! What strikes us right away is that it is much cleaner here. And the people are different, they have more Asian faces and are friendlier, more open. For the first time you actually get a reaction when you greet someone. Cars drive up to us and honk their horns in greeting. Little boys run after the car and really like the dogs, but think it is too scary to stroke them. We really enjoy it after the - not unfriendly but somewhat reserved - Russians.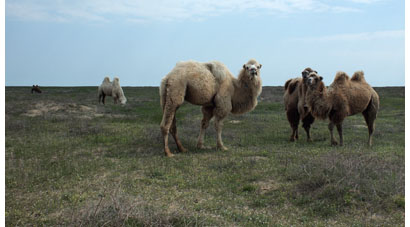 We are now following the northern branch of the ancient silk route, and it doesn't take long until we see the first camels. Real camels, with two lumps! They are impressive animals. Most are shedding their winter coat for a light summer dress and big pieces of camel fur are hanging off their backs and flanks. Syma really likes them and wags his tail every time he manages to spot a few along the road. We don't recognize Syma; at home he likes to sleep all day long. In the car he is awake and alert and sees everything. Every cow, camel, sheep, goat or horse is a reason to jump up and down running to the other window if maybe there are more. Duco on the other hand is not interested. He only gets excited when it looks like we are getting out. For the rest of the time he is sleeping, at least when the road is not too bumpy to disturb his slumbers. And he is in luck, because the road is good! That really is a pleasant surprise because we are going to have to cover many, many miles in the enormous country. Kazakhstan is the 9th largest country in the world, a little bigger than Sudan, and it has only 15,4 million inhabitants. The same as we have in Holland, but compared to Kazakhstan Holland is a post stamp. We drive on to Atyrau, 300 km east. This city lives and breathes oil. And it shows, everywhere new buildings are rising on the steppe. We are too late in the city to arrange the, also here mandatory, registration. Luckily it is at least clear where (immigration police) and when (within 5 days) we have to arrange it. When we have left the city behind we drive off the road for a place for the night. No need to shop around, there is no hill or bush to hide behind. Just drive a few hundred meters onto the steppe and that's it. We still see the road but traffic is low, so it doesn't bother us. It is an illusion to think you can be invisible even if you wanted to be. From the road it looks like there is only sand and some thorny bushes on the steppe, but when you look closely there are also lots of little flowers and there is a really fragrant smell. We feel very happy that evening, our first night in Kazakhstan. The starry sky that night is breath-taking.
27 – 28 April

Yesterday when we crossed into Kazakhstan it seemed that we were still on the same time. We wake up at 6.30 am and think it is still very early. But our telephone tells us it is 7.30. A good time to get up then! The morning walk is refreshing but also odd, you have nothing to get your bearings and just walk into 'nothingness''. Around 09.30 we leave for Maqat, the next bigger town on our map. For the first 100 km so far, so good. About 10 km before we reach the town the road rapidly deteriorates. We hope it is a temporary setback. We drive around the town to find the office of the migration police. The search leads us into some smaller streets that are basically dried up mud. Not all of it is dried up though, we soon find out when we reverse because we have entered a dead-end street. Before we know it our right back wheel has disappeared in a really deep mud hole, the car is hanging over so much I can hardly open my door. Shit, this is not good! Luckily we decided at the very last moment before we left to mount a winch. On our last trip we only ever used it to pull other people out of trouble. Now it is our turn! There are some telephone or electricity poles in the street and with the aid of our snatch block and one of the poles we winch ourselves out of the mud. Our main worry is if the telephone pole will hold… it does. It is funny how people around here really lack the curiosity that we found in Africa. Someone passes, takes a look, decides we are probably going to be all right with all the gear that is coming out of the truck and leave you to it. I do think that if you need help, they will certainly try provide it, but as long as you are okay, they are too. In the end we manage to find the police, but they don't want to register us. They are friendly enough, but explain to us that they are only a small town and because we are traveling through the whole country, we should register at a bigger town, like Aqtöbe. We will pass there anyway, probably even today we are still thinking at that time… so that's no problem.
The road ahead is….. where??
After touring the town three times looking for the road to Aqtöbe we are really at a loss; where the hell is that road?! There is a big plant near where people have pointed where the road should be and I ask the guard (waking him up in the process) if he can show us the way. When he has recovered his senses he starts pointing and talking, but then briskly walks towards the car and gets in to show us. I get in the back, cosy with the dogs. And I must say, without him we would not have found it. There is no road. There are only numerous tracks through the sand between the railway and the gas pipe line. And not nice smooth sandy tracks, at times it must be really muddy, the deep tracks that trucks have made have turned it into some kind of roller coaster. "Make sure that you follow the railroad tracks and the gas pipe line, in the end it will bring you to Aqtöbe" and he jumps out off the car and is gone. We left this morning planning to cover a good distance, now we only think how we are going to make it to the next town with everything in one piece. Traffic has almost ceased to exist.
Slowly we make our way. There is no alternative unless we want to drive back to Altyrau and drive north from there. Many more miles, with no guarantee that that road will be any better. Of course off-roading is really good fun and the car was made for it, but 500 k off-roading when you think you are going to cover the distance in one day (and still the days of our visa are ticking away), is a different story We just look at each other, decide it is all part of the great adventure that traveling is and we just have to take it as it comes. That whole afternoon we just push on. At one point we find the road, or at least, the elevation with some crumbled remains of what used to be a tar road. It is good to know we are driving in the right direction but it is not a good idea to drive it, that is really impossible. All other traffic (not much, but still lorries and occasionally a normal car) feel the same way and every one tries to find his way across the steppe, sometimes we do 50 k an hour, but very often it is closer to 10 or 15. The steppe does have a beauty of its own; the vastness and total emptiness with above it a clear blue sky. The temperature is a very pleasant 20 – 22 degrees and we are in for an extra treat: the wild tulips are in bloom! Whole patches turn red or yellow. We had expected to see them a lot further to the south. We might not make it in time to catch them over there, but nobody is going to take this away from us! We stop and make camp early in the evening when the shadows start to play tricks with your mind and you cannot really see the holes and bumps. Not hard to find the campsite again, just drive 400 m off the track and there it is! Also when it is dark we still see the lorries making their way across the tracks. We are happily enjoying our dinner of cabbage, curry, paprika and rice. The next morning we prepare ourselves for another day off-roading towards Aqtöbe. So we are pleasantly surprised when the road, that we keep coming back to check it out, does look different after 30 k. We give it a try and it works. Not great, but still, we manage 70 and sometimes even 80 k an hour. We stop at one of the villages along the road, where we see some locals filling big jerry cans, to fill up our water tank. We have been looking for a couple of days for water, our 100 litre water tank is getting empty. Nowhere at gas stations there is water available, it is harder to find than diesel! With the aid of a really helpful guy our water tank is again full to the brim in no time. Much quicker than we dared hope when we set off this morning, we arrive in Aqtöbe. Our plan is to do some serious shopping and arrange the registration. We soon find a super-de-lux shopping mal, you would not find it in Europe. There is even a skating ring! Back in the parking lot a guy who spotted the car and speaks excellent English (and so does his girlfriend) helps us tremendously by driving ahead of us to the police station. It is way out of the centre of town and I'm sure it would have taken a lot of time to find it had we had to do it on our own. The formalities take time, as formalities always seem to do, but then we have our stamp. We are totally happy: water tank full, car full of groceries, freezer full of wine, yoghurt, vegetables, meat, orange juice, registration arranged; what more can a traveller ask for. The afternoon is drawing to a close as we leave the city behind and the dogs really have been very patient today. Time to stop! Not far from Aqtöbe we find a really beautiful spot in between some hills and finally Duco and Syma get the attention (no to mention the food) they've been craving. But not after we have shared some vodka and talk with two shepherds. Around 6 pm we are sitting in the sun in front of our car, enjoying the peace and quiet, the beautiful scenery and a glass of wine. This is really what it is all about, this wonderful feeling of freedom.
29 – 30 April
Our next port of call is the Aral lake. This lake has (as you probably know) shrunk rapidly after the brilliant idea of the Soviet engineers to divert the water of the two rivers that fed the lake to the bone-dry inlands of Kazakhstan. The water should irrigate the cotton fields that were planned there to make Kazakhstan a big cotton producer. Not only with disastrous results for the lake's flora and fauna and of course the people who depended on the fishery, but it was also a total failure because the water that was diverted through the open irrigation channels had evaporated long before it had reached the envisaged cotton fields. At one point the shores of the Aral lake had retracted 100 k from Aral. Over the last couple of years the lake is again expanding because of the dam they built in 2005 but it has not yet (and it is doubtful if it ever will) reached to dry harbour of Aral. The images of the stranded ships in the harbour are well known. We drive one day towards Aral, sleep somewhere between the road and the lake and the next day want to go and see the ships for ourselves.
Just in time we find out that our map places them in a totally different place than our Bradt. Bradt is right, but the road leading to the ship's cemetery is so horrible (for you out there who have experience: corrugation) and no possibility to drive around it that after 1 hour of rattling our bones out we look each other deep into the eyes.. do we want to suffer this for 6 hours to look at some shipwrecks. In the end the answer is 'no' and we turn around. With pain in our hearts, this is one of the sights of Kazakhstan that we really wanted to see, but not at all costs. Our experience at the Kenyan Marsabit – Isiolo road are still too vivid…we destroyed all shocks and everything that was once fixed came loose on that road. We almost totally destroyed our car. The next day we find out that even two hours have an effect. During the lunch break Emiel checks all bolts and nuts and quite a few need tightening. We head southeast, still following the silk road towards Shymkent, Taraz and finally Almaty.
1 – 4 May
I'm sure I've mentioned it before, Kazakhstan is big and empty. That fact is grinded into our minds the next days. We follow the M32, 2000 k! And this whole road is 'under construction', as we find out later again by these wretched Chinese. They just pave the whole bloody world in exchange for minerals, oil, or land. But, fair is fair, in this case (in Africa it is a different story so far as we have seen) they are doing a really thorough job. We are impressed by the enormity of the project, the planning must be a real challenge. It should all be finished in 2013 and then you simple fly towards Almaty over the M32. We on the other hand don't fly because all of these construction sites mean many 'by passes', mostly gravel or parts of the old road. And it is dry and hot (36 degrees) and dusty. There is a strong wind which is sometimes helpful in blowing the dust away from the car but mostly blows it right into the car. We manage to keep the dogs cool using the ventilator. We just try to keep the dust out by closing and opening windows. But in the end the dust gets everywhere. We both feel it in our eyes, nose, ears. But Emiel really gets serious ear-ache. So much so that we decide to use some of the antibiotics we brought so it doesn't turn into a real problem. Very slowly the parts of the road that are good enough to make some speed increase in length.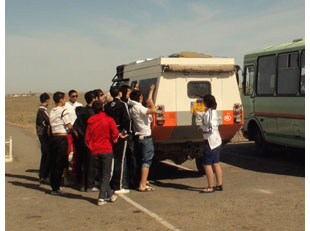 Luckily there are also some sights along the road. Not far from Aktöbe we are surprised by a monument for the founder of Türkistan. A whole busload of school children thinks we are a more interesting attraction then the actual monument (our 'blackboard' is irresistible) and they all want their picture taken with us. The nest stop is the city Türkistan, the really splendid Mausoleum of Khodja Ahmed Yassaui. Beautiful mosaics, a turquois dome and carved wooden doors. The mausoleum was founded in the 11th or 12th century, was partly destroyed during the Soviet rule (religion being the opiate for the people) and has been restored since 1989. An English (more or less) speaking guide gives us a tour. There is also a museum and underground mosque. Later that morning Onno sends us an SMS that Bin Laden has been killed last night; the Muslims here are not the radical type and not very impressed, nobody says a word and we don't get any sings that something is amiss. Let's hope it will stay that way.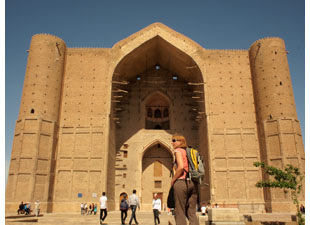 After all those miles and days over the dry and empty steppe we are glad to spot some green. Sporadically we see a tree or green scrub. At times it seems to take over, but after a little while all is again dry and empty. Only after we have left Shymkent behind we notice some real change. And we see in the distance the snowy peaks of the Qarzhantau Zhotasy mountain range. Here is also the Aksu-Zhabaghly Nature reserve that we hope to visit. Before we reach the reserve we stop for the night in the hills with a view on the moutains. Unfortunately we find out that also x thousands of ticks decided it was a good place to settle. Emiel takes the dogs for a walk and when they return they are really crawling with ticks, augh! We brush them and try to catch every last one of them. We are mostly successful, the next morning we find another 3 or 4 but they are dead or dying. Good to know that the scalibor collar is working. The next morning we carry them to the cabin of the car and find another place for their morning walk. Now it is only a few more miles to the reserve. We find the head office to acquire the permit and – compulsory – guide. Bureaucratism and tourism are really not best friends, and the people that speak enough English to really make a good guide are few and far between. We get to go with a young lady who in her everyday life is a chemistry teacher. She really tries very hard but apart from the standard lines she can say about the park it is very difficult to engage in some real conversation.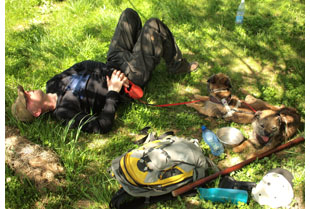 All the same we have a very rewarding, albeit also extremely hot and tiresome, day. We visit a canyon, 1 km descending (that's not too bad), and 1 km ascending (puff!) and all this at 30 degrees +. At the bottom of the canyon is an ice-cold river which the dogs really like. Duco tries to get under every scrub or tree that promises some shadow on the way down, but after resting and swimming he is his old active and cheerful self again. The scenery is stunning and we have a wonderful time. It is a pity that the wild tulip that this reserve is famous for has already bloomed. We just are lucky we saw them a few days ago on the steppe. When we are down in the canyon we meet another guide, Svetlana. She is very interested in the dogs, strikes up a conversation in excellent English and invites us to spend the night at her place. She has some cabins she rents out and a garden where we can camp. We gladly accept the offer and our guide escorts us back to the place. There is even a shower so a chance to wash my hair, that feels good! Svetlana en her husband Vladimir are Russians, both biologist and moved here from Moscow about 20 years ago. Quite a different life! Biologist are apparently not in high demand, so that is why Svetlana also works as a guide and rents out the cabins to tourist, just to make some money. We enjoy our stay and Vladimir just loves Duco and Syma. He is very interested in dogs in general and breeds special Russian or Kazak breeds. Only the night is maybe not so wonderful, all dogs in the village (and horses and donkeys) howl, bark, whinny and make donkey noises; what a noise! We don't understand how anyone in this village manages to sleep. But then again the son and daughter sleep in the garden and seem not to least bit put out, apparently one gets used to this. And aren't Duco and Syma wonderful! One or two soft barks from Duco that's all we hear from them all night. But we don't get a lot of sleep.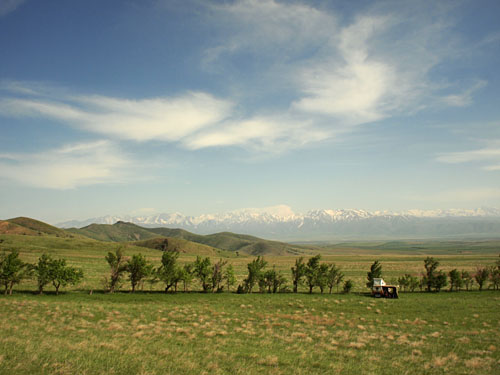 We decide we have deserved some time off in the mountains. We drive only a few kilometres, find a track that leads into the hills and set up camp at a grassy hill with a view. Just a lazy day, doing some washing, reading, some odd jobs around the car, and rest a bit form all those miles and a bad night. Wonderful!
Finally managed to escape the time table
5 – 17 Mai: Zhabagaly, Ak Beyik, Kamenka, Targan, Shenggeldt, Sagabuyen, Ai, Balausovka, Ridder (Kazakhstan), Zmeinogorsk, Barnaul, Manzherok (Russia)
As you are probably well aware (because I already bored you to death on the subject), our time in Kazakhstan is limited due to departing later than planned and being held up in Volgograd. Before we left we thought it would be easy to extend our visas but now we've actually researched the topic a little better it seems very unlikely. So we have to make up our minds; we either drive up Astana (over 1000 k in a directions that has little more to offer than the city itself, which by the way we would actually have liked to see), find the migration police, or Ministry of Foreign Affairs take our chances trying to convince them we are really nice people that deserve another 30 days in their country - with a pretty big chance we won't succeed - and in the end have even less time to spent. Or use the time we have wisely and visit the places that we think are the most worthwhile. We opt for the latter. This does mean we have a lot of driving ahead of us in a relatively short time and we won't be able to hang around much at any one place. We are indeed on a schedule as Emiel's brother suggest in an email, not really what we set out for, but there you are. We take comfort in the thought that at least in Mongolia, which has always been the main attraction for us on this trip, we will have plenty of time to do and see everything we want. This whole journey is very different from our last. That does not mean we are not enjoying ourselves immensely and relishing the time. But it does feel more like a really long holiday.
When you are on a time table, it would be nice to know what time the bus will arrive. But it is very difficult to estimate how much time it is going to take to get from A to B. The road conditions are very unpredictable, it could be anything from a bumpy track to a dual carriage highway. So you just never know if at the end of the day you've covered 100 or 700 kilometres. And so it can happen that at the end of our Kazakhstan adventure we have 1 day left on our visas, also because we find a border crossing much closer than the place where we planned to exit.
The Land Rover is performing really well, both on and off road. The problem with the back spring has been solved. A few days later we find out the system is leaking coolant and it takes Emiel some time to figure out what is the problem. It turns out that the reinforcement plate under the bonnet (to help it carry the weight of the spare wheel) is thumbing on the cap of the thermostat on bumpy roads (we've had plenty of these). This has damaged the cap to such an extent that it is leaking. Luckily we have a spare, one that Emiel bought some time ago just because he liked the look of it so much. He also makes some minor adjustments so the same problem won't happen again. We do notice our rear tires are showing the mileages on rough roads. Soon we will have to consider swapping back and front and/or spare tires.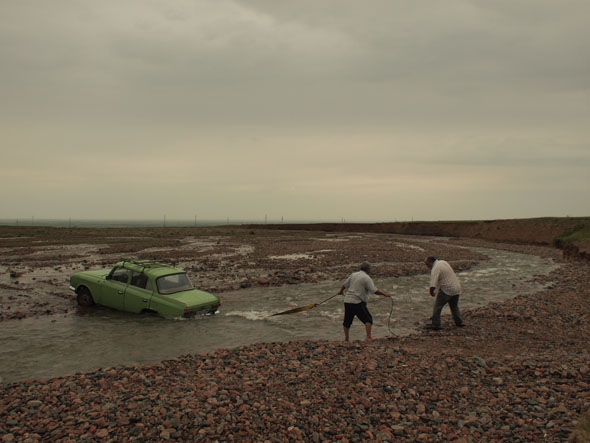 And once again we got to use the winch! Not for ourselves this time but to rescue an unlucky (or simply stupid) Kazak. One late afternoon we are looking for a place for a bush camp when we see a man waving at us from a distance and in the background we spot some sort of Lada right in the river, apparently not going anywhere. It is the kind of river you often find in mountainous areas, lots of stones, very wide with multiple streams making their way down through the gravel and stones. The Lada did not make it to the other side and is solidly stuck in water and gravel. Can we help? Of course we can! Actually it is really a piece of cake; it is a very light car and Emiel's only worry, so he tells me later, is that he pulls the bumper off the Lada. Fortunately for the unhappy owner he doesn't. The men want to show their eternal gratitude for the tourists (I doubt if ever anyone not Kazak before us drove this way) who stumbled upon them like a gift from heaven by offering us camel milk. We polity decline and after much handshaking and hugging take our leave. Had everything gone according to plan, you would now be able to see a little movie showing this heroic rescue. Unfortunately I pressed the wrong button!
After some very hot days we had on the steppe a while ago, the weather has changed and is very unpredictable. The temperature has dropped considerably, most days it is somewhere between 10 - 15 degrees. Mostly it is sunny and windy, though we also get some clouds and rain. Sheltered from the wind, it is warm enough in the sun to sit and eat outside but in the evenings we do take the extra sleeping bag вЂ˜upstairs'. The advantage of the low temperatures and the wind is that we don't get many mosquitos. This will surely change over the next weeks but for the time being we are fairly undamaged. Also the ticks are not so bad yet, apart from that one bush camp where we had to get them off the dogs by the dozen, we haven't found a single one (and believe me, we do check!).
After the Ukraine and our first part of Russia, we find Kazakhstan quite clean and tidy. Also here you find the occasional illegal dumping spot, but in the bigger towns and cities we spot some garbage trucks and they do have walled-in dump sites. Billboards along the roads make clear the government is at least trying to educate people not to just discard their rubbish. We also see some teams working to cleaning up along the roads and there are garbage bins at bus stops.
Talking about billboards along the road ... we are really truly glad we no longer have to look at Mr Nazarbaev's (president of Kazakhstan) face. It is a miracle and a wonder that this man finds time to do anything else but posing for another campaign designed to make sure Kazakhstan will soon be a leading nation. Apparently there is some sort of '20 years plan' that will make sure paradise is here in 2030. We wish the Kazak people really all the best and would love for them to enter their Garden of Eden, but somehow we don't think they will. The state of the democracy surely still leaves a lot to be desired. Also the priorities are at least doubtful. Again we see so many people along the roads with a big brush painting everything white and black they can lay their brush on (poles of traffic signs, guard rails). When you see all this going one driving on the road trying to avoid potholes and bumps you do question if maybe this labour force should be directed elsewhere. We find the same thing in Russia, although so far the roads are much better. But surely there are other things one could focus on (maybe tearing down some old unused factories??).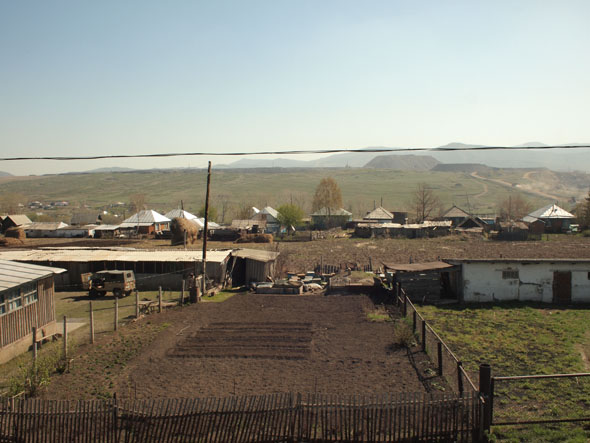 The houses in the villages are very similar to those in the Ukraine, but also here it seems a lot tidier. People are busy around the house, most houses have a vegetable plot and they are ploughing and planting. It does help of course that we are overtaking the season and everything is green and blooming. Along the road people are selling apples, potatoes, eggs, tomatoes, beetroot, cucumber, carrots, unions and cabbage. And all sorts of preserved goodies and in some regions also lots of honey. Really nice honey I can tell you! The choice of vegetables is rather limited, even in the supermarkets. We are really happy when we find a paprika and we haven't spotted a head or leaf of lettuce in weeks. I'm sure this will be very different in a few weeks time when crops are coming in from all those vegetable plots.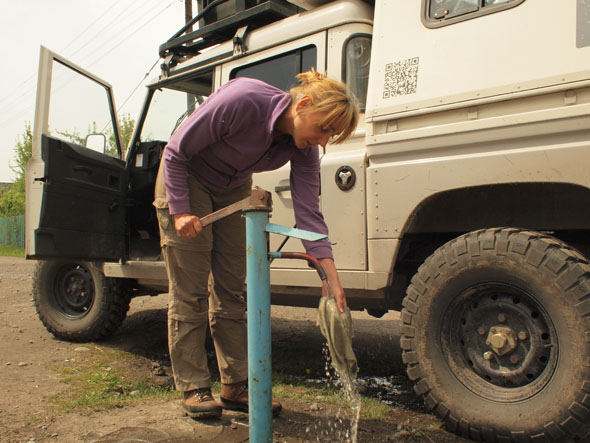 In most regions all houses are connect to the gas net. The yellow painted pipes are all above ground, at about 2 metre, even higher when there is a connecting road or entrance to some building. It is not a pretty sight and also we have doubts concerning safety, especially when you look at it up close. Sure one can understand that it is very difficult and expensive to put it all in the ground, especially when taking the severe climate into consideration. Here in the Altai most people use wood, which is plenty available. It does make the villages much more attractive to look at. Water is a different story. Most villages have one or several taps that everyone uses. We first had difficulties finding water, once we found out how the system works we don't anymore.
Generally speaking the people are well dressed and obviously take care of themselves. It never ceased to amaze me how these pretty high heeled ladies manage to keep so clean and respectable when you look at the houses, the yards, the roads. Most villages have roads of dried mud, which must be really messy when it is wet. In the dry season the dust blowing through everything… How come I always have dirty nails?? When we settle down for a few days in the Russian Altai and do our laundry and see the really black water that drains from our trousers, fleeces and t-shirts it is even more of a miracle how these people keep themselves so immaculate.
In Kazakhstan people speak Kazak. For the untrained ear that is a lot like Russian, but it is actually quite different. Of course most people also speak Russian, some even know a few words of German and you might even find a person that speaks some English. Knowing how to and wanting to are two very different things though, because often it appears they actually do understand you or can give you an answer or directions. For some reason there is an enormous resentment against speaking English. It is not clear to us if that is because people dare not or simply find that it is your problem you don't speak the language. We did try very hard to learn some Russian in the months before our tour. It helps a lot that at least we can read most things, but to have a conversation in Russian is still very difficult. Also because most people are not so interested in helping you, though of course there are always exceptions and nice people too. In a shop when they don't understand what it is you want they'd rather not sell you anything then try and find out what it is you need. It is a really strange contrast between on the one hand this off-standishness of many Russians and Kazaks and on the other hand a hearth warming hospitality that we also experience.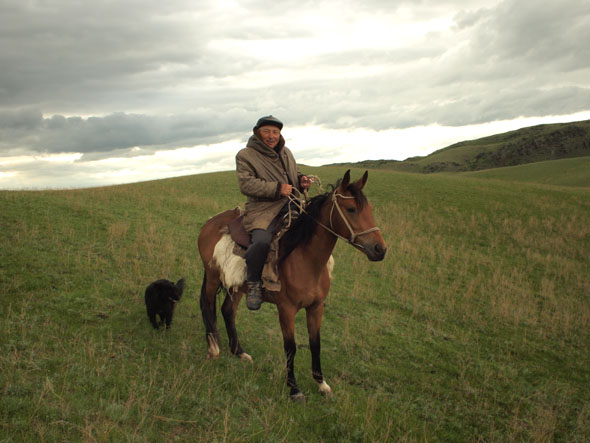 We meet a shepherd who rides up to one of our bush camp places and insist we come with him to sleep at his house, because to sleep in the car, that can never be good. In the end we manage to convince him that we won't freeze to death that night and he decides to give it up. But surely the next morning he is back to check if we made it through the night. And also on our current location in the Russian Altai at some sort of holiday camp the other guests (two Russian couples) insist we join them for dinner and drinks (the latter was not the best plan we find out later) and to share the sauna they've rented. We have a really nice evening, despite the language barrier, we understand each other perfectly (the vodka accommodates this process). The Russian 'banya' (sauna) is truly an experience. Temperature about 120 (!) degrees. You have to lay down on one of the benches (all very decent in swimming suit so no worries there) and then they beat the hell out of you with a bushel of birch twigs. This makes it even hotter and just when you think you can not hold out much longer, they throw a bucket of ice cold water over you. Then you get out and try to recompose yourself, preferably with a large glass of cold beer, and then the whole thing starts again. I must say, you do get clean!
The next morning we are painfully aware of the consequences of our drunken night. Let's just say we don't really do very much that day.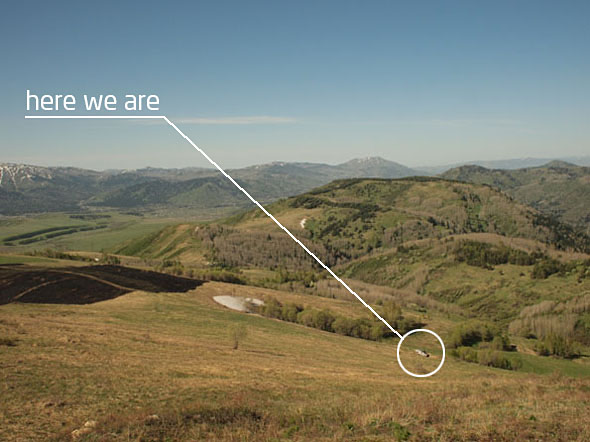 So now we find ourselves for five days in a little wooden cabin in the woods next to the river Ob. After all this driving and chasing the time table we thought it would be good to get some rest. Do the laundry, write a bit, read a bit, do some jobs at the car. The weather is not great, a bit chilly and thunderstorms at night though it does seem to clear up a little. But not the best weather to bushcamp for a longer period, better to have some walls and a roof over your head and running water for the laundry. It is clear that it is still low season, apart from our Russian friends who spent the weekend, there is no one. A bit boring maybe, but also nice and quiet. The cabins are placed almost on top of each other and most are hardly more than a walled-in bedroom. Obviously life is supposed to be lived outdoors. And we are convinced that's just what they like, combined with plenty of alcohol July and August every night it's party time.
We do feel a little thorn sometimes. These countries are really ideal for bush camping, as I said before. We find one beautiful spot after the other with so far the absolute favourite being a mountain track in Kazakhstan's Altai, a clear and sunny day, some snow patches still around, a view that leaves you breathless. We really enjoy the peace and the space, but we also sometimes miss being able to share it with others. Occasionally you get a visit from a shepherd on a horse or bike, but communication is very limited. Apart from that, no locals. Also we have hardly met any other travellers. So far the count stops at 2, but I must say these guys were quite remarkable.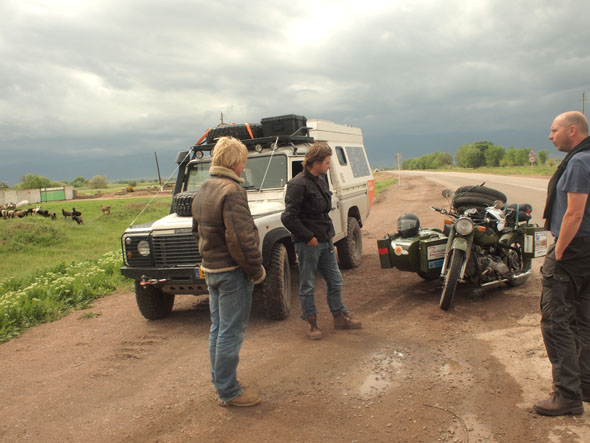 Willem and Harmen from Friesland (Netherlands). On the road towards Almaty, we were driving east, they were driving west and we both hit the breaks as soon as we spotted the other, just to say hi. Willem en Harmen
shanghia-amsterdam2011.nl
drive their Chinese motorbike with sidecar (illegally it seems, you are not allowed to export Chinese bikes or cars) from Shanghai (where they live and/or studied) to Amsterdam in three months. Now that is what I call hard work. Sometimes camping, sometimes a cheap hotel, no doubt often invited to stay at someone's house. I imagine that once they find out you only got a little tent with you they really find it unacceptable that you sleep in that and you must come and stay. I'm sure they will have plenty of stories to tell when they get home. Somehow we were not surprised they are Dutch, you always meet them in the most unexpected places, travelling in the most unexpected ways.
We'll be here for another day or two and will then slowly drive south towards the Mongolian border, about 400 k from here. It is often not easy finding an internet connection, that's why so far we have not been able to update as often as we would like. We don't expect things to get much better in Mongolia. But if there is GSM coverage, we'll try to tweet more regularly.
From splendid Altai to… the moon?!
18 - 21 May, Manzherok, Elanda, Iodro (Russia), Tsagaannuur (Mongolia)
Now we are finally on a more relaxed schedule, we take our time to experience the Russian Altai. On our last full day in our little cabin in Manzherok we drive up to Gorno-Altasyk to update the website and check the email, do some shopping and to explore the surroundings. We also take a look at the other bank of the river Ob, and have to cross a rather doubtful looking suspension bridge to get there.
The signs say it should be able to carry 3,5 tonnes so our 3 tonnes should not be a problem. It helps also that we see lots of other vehicles cross, bigger then our car we think. Nice detail is that only once you have reached the other side they tell you they charge 30 roebels for this pleasure. It's only 75 eurocents so not really a big deal. Also at this side of the river they are heavily investing in tourist development. The number of new cabins they are building here, there and everywhere is impressive. The way they do it is perhaps a little less impressive .... We have a delicious late lunch at a brand new cafe, only just open for business. Especially the soup, a paprika/tomato broth is really good. The weather is slowly improving over the last few days, every day a little more sun and the temperature is crawling upwards, although the nights are still pretty cold.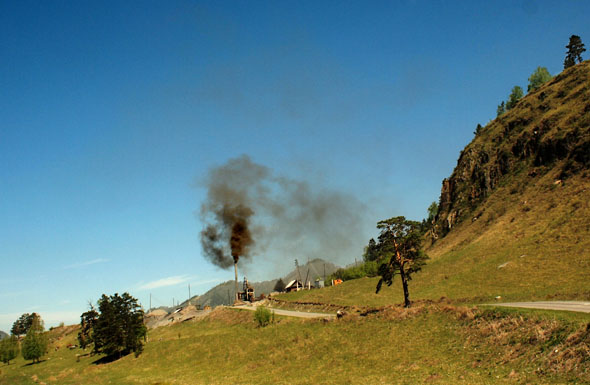 So the next morning it is time to leave Manzherok behind. It takes some time to pack the car, in the meantime everything has found a place and we have developed a sort of routine who does what. Today we are only going to drive a short distance, deeper into the Altai, off the main road that will eventually lead us to Mongolia. It is a beautiful drive that takes us through small villages. rivers and wooded hills. There is not a cloud in sight, it is around 22 degrees and the breeze is just enough to make sure the flies are not bothering you. Could it be more perfect? Early in the afternoon we find a great spot for a bush camp so we decide to call it a day. We sit down in the sun with a Hoegaarden (beer) that we found in a little village stop. It is funny how some of these small shops have even more choice than the supermarkets that just sell more of the same stuff.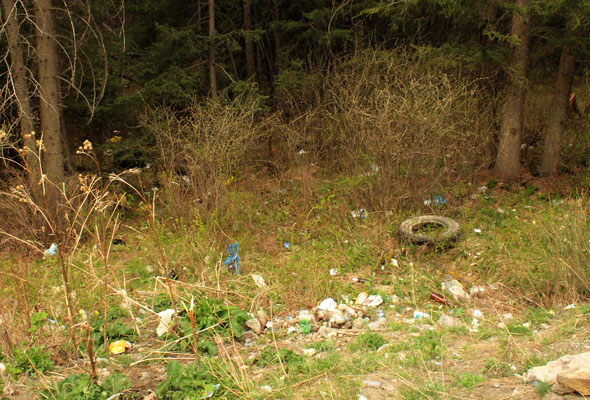 What is not so funny is that even in these magnificent surroundings we regularly find illegal dump sites with lots of garbage. Also places that are obviously regularly used for a picnic, just a break or camping there is always an enormous amount of rubbish laying around. You just don't understand that apparently they just don't mind. And now and again we run into a smoke stack bellowing out plain black smoke, something we haven't witnessed at home since the seventies. A huge contrast with the idyllic scenery.
But for now we don't see any of that and just enjoy the mountains. And the pasta with salmon and broccoli later that evening.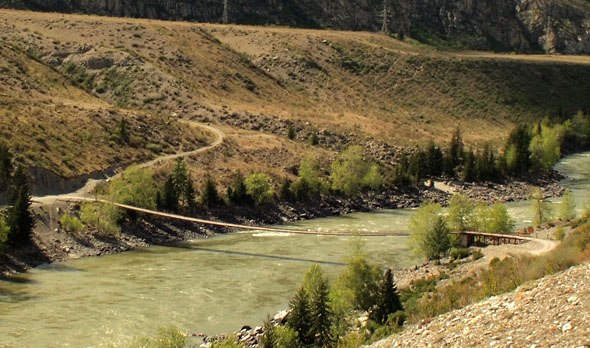 The next morning we don't wake up until 8.30 am. Very late for us; no where we sleep as well as in our Land Rover bed. We have another day of just enjoyment ahead of us. It is again a sunny and warm day. An - if possible - even more beautiful drive takes us a little further south on the M52, the road into Mongolia. This part of the road is known as the Chuysky Trakt and is, according the L.P. the most scenic stretch of road we are going to find in Russia. We are inclined to believe them. At the end of the afternoon we try to cross the river to find another nice bivak but decide the suspension bridge is a bit too adventurous, no other traffic anyway near either. We'd rather stay alive and keep our car! About 10 k down the road we find a bridge that we do trust and so we make our way over some tracks to another wonderful bush camp in the mountains and fall asleep late that evening with the flowing river as only companion, but not before we enjoyed another good meal of rice, chicken and green beans.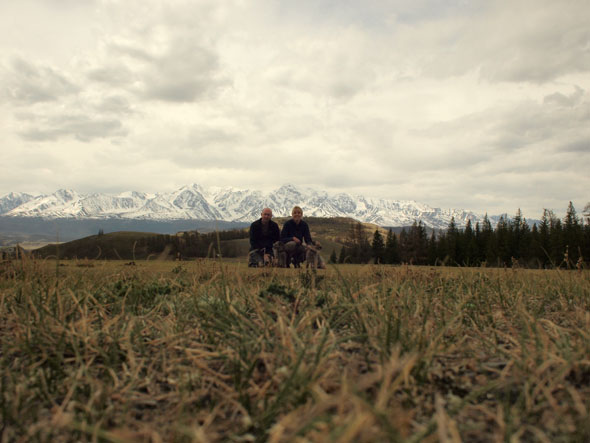 The next day we wake up to a cast over sky but at least it is dry. We leave in time to cover the last 200 k to the border. We again take our time because the scenery is still stunning. Luckily the clouds don't block the views. Slowly but steadily we ascent to 1700 m and look out on the snowy mountaintops. Also at ground level there are still patches of snow. The temperature is steady at 14 degrees. Very sudden we find ourselves on a high plain, all green disappears to make way for tones of grey and brown. There is a very strong wind whipping up big clouds of dust. We drive through the village Kosh-Algach, a collections of seemingly haphazardly placed wooden houses and fences. You wonder why anyone would choose to live here instead of 20 k up the road, where it is all lush and green! The wind and dust are all over the place. What will people do here to make a living and kill the time when even a vegetable patch is no longer an option? Also closer to the border we see similar villages and some goats and sheep. Not for the first time we are amazed what little they need to stay alive, you would be forgiven to believe they eat stones.
At ten past one we are at the border at the immigration checkpoint. Only, there is no one there… lunch break until 2 pm! We stay in the car with the motor and heater running, the wind is still very cold! All in all the exit formalities are pretty smooth (for future travellers, again nobody ask for registration papers, we are glad we didn't bother this time and certainly won't a next time). The only remarkable thing is that someone thinks it is necessary to copy Duco's and Syma's passports. What they are going to do with these papers, we have no idea, but we hope they will cherish them for many years to come.
After 45 minutes the last gate is opened and we are free to leave. The Mongolian border is at least another 30 k down the road so we just continue on through no-man's land. And we spot our first marmot and yak! It is funny and strange how these creatures seem to be aware of the border' we are not supposed to be in Russia, so we just stay here". We cherish our last miles on a nice tar road, we know from a very reliable source (
Gerard & Betty
) that once in Mongolia this abruptly changes into gravel and dust.
The roads just keeps ascending and before we know it we are at 2400 m. Soon we spot the first checkpoint, or is it maybe the last Russian post?
Anyway, we are quickly waved through and drive up to the gate and buildings that we assume are the Mongolian border post. We fill out a registration form (in English), passports are checked, car is registered, customs, it all goes very easy and smooth. And they speak English! Not everyone, but they make sure that the official that speak some English helps us. The lady (also the first time a woman is head of the customs office) wants to take a look inside the car and almost literally jumps out of her skin when she opens the backdoor and sees Duco and Syma's happy faces greeting her. That might teach her to wait for us to open the doors ;). For the first time when entering a country the dog's passports are very thoroughly scrutinized. It is obvious they do have rules for bringing animals but they probably never have to apply them, I mean, who in heaven's name take his dog to Mongolia?! One of the rules is apparently that they have to check the dogs if they appear healthy. One of the men has to carry out this task, the ladies think it is much too scary. Emiel takes him to the car where he tickles the dogs under their chin and feels Duco's paw, like you would feel someone's pulse. Duco is not amused and immediately draws back. But they pass the tests. All in all it takes about an hour and we can drive off, into Mongolia. We loose another hour because we have to adjust the clock again.
So it is 5 pm when we drive our first miles on the Mongolian gravel road. It is like we have landed on the moon. We are still at a high altitude (2200 m), the wind is blowing fiercely and there is dust! No tree or scrub in sight. After almost one hour we decide it has been enough for today and we drive onto the endless steppe, over a little hill and stop for the night. We park the car with the nose in the wind, we get inside the camper with the heather on! In the evening the cloud cover seems to lift a bit and just in time for sunset the sun finds a hole to put some colour on the mountains and then it is like magic.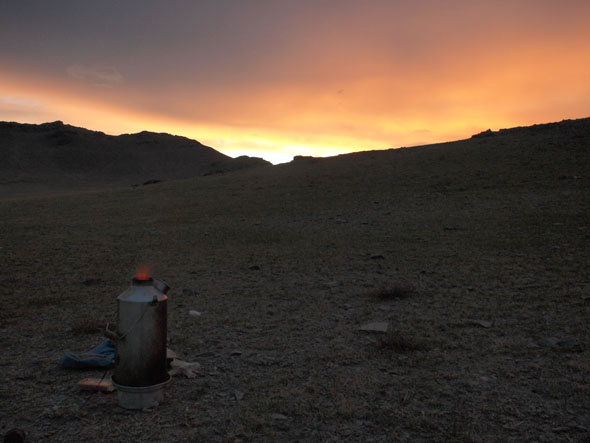 After a freezing cold night we are still in bed relishing the warmth under the covers when we hear a motorcycle coming our way. Also here where we haven't seen a living soul someone has spotted us. A family - father, son and daughter - all on one bike, taking the daughter to school. Well, you cannot leave visitors standing outside before a closed door, so we quickly put on some clothes and greet them.
And here are the pictures we promised to post for the family Sanatxar.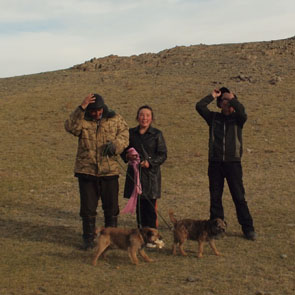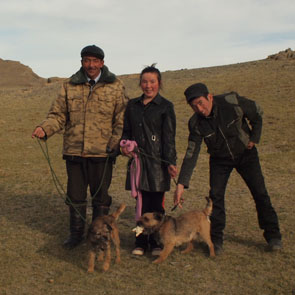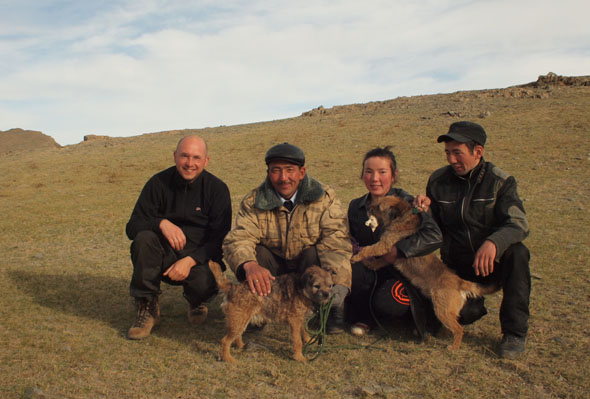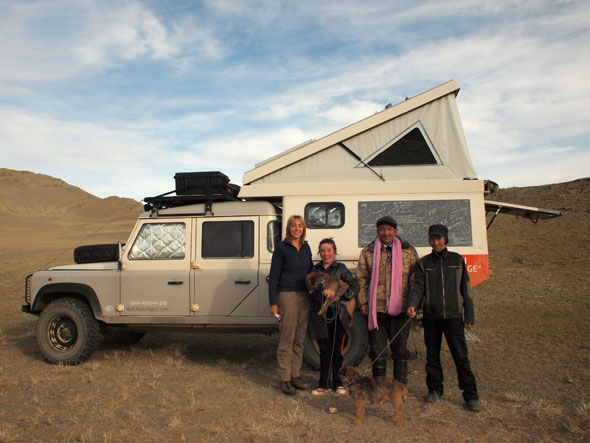 For the first time in all those weeks we finally meet people who are not afraid of Duco and Syma, on the contrary, the are cuddled and hugged and the 9 year old daughter runs to her bag to give them a piece of bread. We take pictures and talk a bit, in some Russian and some English. Then it is time for them to leave, school is waiting! The weather is cooperating too, the wind hasn't woken up yet and the morning sun colours the mountains from deep chocolate brown to soft green, what in the grey afternoon really looked like the moon has gathered depth and colour. We so much look forward to our time in Mongolia!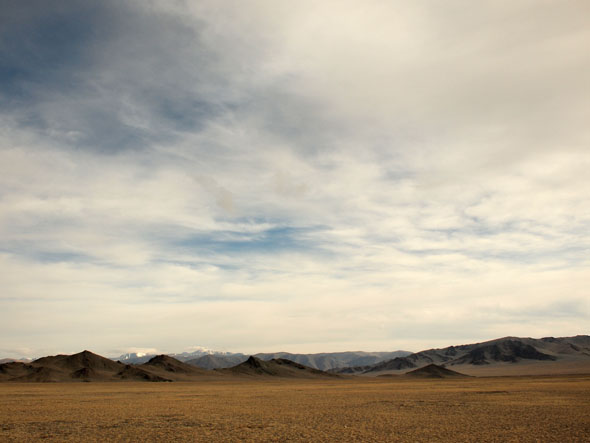 Mongolia

Mongolian hospitality, beautiful mountains and bush-mechanics
22 - 27 May, Tsaagaannuur, Altai Tavan Bogd National Park, Olglii (Mongolia)
When our morning visitors have left, it is time for our daily morning ritual. Also Emiel wants to check the car, if everything is still tight and in place. It turns out most things are fine, but the rear wheels are a bit wobbly. We decide to tackle this right away, before we leave for Olglii, the next town on our way to Altai Tavan Bogd National Park. The operation is carried out without much problems, although the sweeping wind makes it difficult to keep the jobsite dust free. We manage with a provisional tent made of towels. It is already way past noon when we are ready to leave. Olgii is not very far in mileage but we expect it will take ample time to get there. The first 20 k our expectations turn out to be correct, and also here again road works! We are getting a bit tired of them to be honest. The Kazak road works were enough to last us a lifetime. We plough through dust and sand, the by passes are not so well laid out as in Kazakhstan, you just have to find your own way. On top of that there are some serious hills to climb. Altitude is still about 2400 m and we somehow cannot get up the hill anymore. Back to second gear we hardly manage 20 k, what is going on?? In the car we have a gauge that shows the pressure of the turbo, we never pay much attention to it, it is always between 0 and 1. But now it cannot even reach 0.5. So the turbo is not building up any pressure. A quick check shows nothing wrong, no hoses have come loose. Maybe the air filter is clogged up with all the dust it has had to deal with over the last few days, maybe that is (part of) the problem. It is indeed rather dusty and it seems to help a little, but it is clear it is not all that was wrong. Luckily unil Olgii no more mountains to climb, so we just continue for now.
To our surprise about 30 k before Olgii we are suddenly on asphalt. In the mean time big showers are developing all around us and we see the hail and snow coming down from the clouds. It is an impressive sight. For now we escape the biggest showers and sooner than we expected we drive into town. And belive it or not, the first thing we se is the Irish Pub, Restaurant & Karaoke. Dutch Courage did it again! That calls for some serious exploring later, but first we need to arrange a couple of things in town. First stop is the ATM for Mongolian tugrugs. No problem here, there are several ATM's around. Then on to one of the internet cafes, update the website, check the email and pay some bills. Than on to the border troops for a border permit. To visit the national park you need a permit because it borders on Russia and Chin. We find them quick enough but they don't understand a word of English (or don't want to). We decide instead to go to the information bureau for the National Parks. Unfortunately but not totally unexpectedly they are closed on Sunday afternoon. We do meet Jupar, a local guide, who addresses us in good English and offers to guide us. At first we are not very interested because we think we will be able to find our own way. We have GPS tracks, waypoints and a map. But he is a really nice guy, very informative without being pushing. So we tell him we will think about it and probably see him tomorrow at the same place. We exchange contact details and drive off. Time to check out the Irish pub! To enter a restaurant with the dogs we have developed a sort of combat technique. We walk inside with them on a short leash, ask 'can we sit over here' and before they know what hit them we are already comfortably seated with the dogs under the table, out of sight, and placing our order. It is such an unthinkable thing in these countries to take your dog to a restaurant that usually they don't have rules or regulations and they just don't know how to respond. Also here it works. But the Irish pub is not what you would expect. Chinese restaurant would have been a more suitable title. Not a shamrock or Guinness in sight. Instead pink tablecloths and a fishbowl. The menu is only in Kazak or Mongolian, we don't know but with the help of the waitress we try to order something. We are surprised when she turns up with two big bowls of soup, which is actually quite good. With an American beer we have a good meal. An hour later we drive out of town into the hills to find a place for a bush camp, tomorrow we will see what we want to do.
On the way to the mountains we are again confronted with the lack of engine power, even a relatively easy hill becomes a challenge. When we have made our camp it is time for some more serious checking. Emiel soon locates the problem. One of the mounting brackets of the intercooler has broken off, leaving a gap. This should be welded, but just try and find an aluminium welder, leave alone a competent one, in Olgii. Also without welding it can be solved, but we need materials that we do not have with us. So we'll have to go shopping tomorrow. To make sure we get no dust in the intercooler Emiel does a real McGuiver, with a coaster, ductape and a strap he seals it off. And the next morning we find that it actually helps, though not sufficiently. Maybe our potential guide can help us find the thing we need and we can then also discuss what he could offer is in the NP.
The next morning we wake with ice on the sleeping bag and also the dogs are cold, even Duco is shaking. Thanks to the webasto heater we are soon all warmed up. We return to Oglii but do not find Jupar, also on the telephone we cannot reach him. At the information centre we find four men working at their computers. Not one of them speaks any English and only with the help of an English speaking lady that one of them calls on the telephone we manage to explain what it is we want. Two of the guys get into our car, sitting almost on top of each other, and we drive to the same office of the border troops that we visited yesterday. Also even with their help it takes some time, but finally a guy who is apparently high enough in rank comes out and writes and stamps our permit. We don't have to pay, which is strange, because normally it would cost 300 MT, but we are not complaining. Now we try to get the items on our shopping list. With lots of asking around, a little English, a little Russian we manage to find most things. Mainly on the black market, a big market where you can buy almost anything that is available in Mongolia. In the middle there is a big square with lost of billiard tables. It is a bustling and busy place and we draw a lot of attention when we walk along the stalls with Duco and Syma..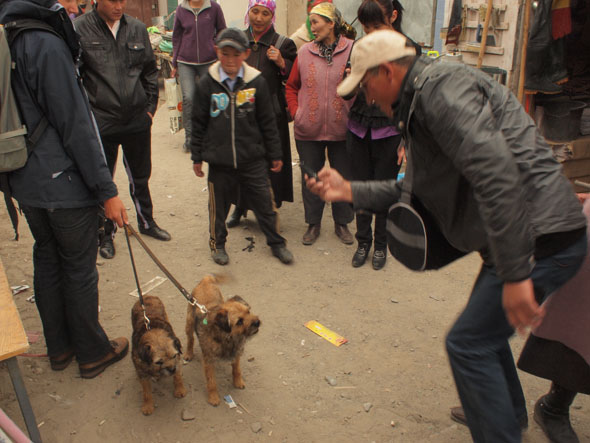 Like before there are people who offer money to take them off our hands, but we are not always convinced of their good intentions, some of them seem to think they would make a really nice fur hat. We think the dogs prefer to live in Holland and don't want to end up on some Mongol's head so we decide to keep them. We do not find an aluminium welder, but Emiel has switched to plan B, with a piece of aluminium, kit and screws he is going to cover the hole. At the end of the afternoon we return to the same campsite and Emiel starts the job in a freezing wind with even some snowflakes falling. He also does some work on the hood to strap it down. We think it is moving up and down more than it used to, not good, it could also be the cause of our intercooler leak. When the job is finished he warms up with a hot cup of tea in our nice and warm camper. We are sure glad with the heater, without it would have been really cold on many days.
In the meantime we have seen quite enough of Olgii but still we retrace our tracks one more time to see if maybe we spot Jupar in town. He is home today and we agree to meet in front of the NP office. The reason why we want to take a guide this time is because we think it would be nice to have some more contact with the people, we miss this on our trip so far. And that is exactly what he tells he can offer us. Also for him is it a bit different than normal. We want to drive our own car but cannot take a third person for a longer trip. So he drives his own car, a sort of Volkswagen van of Russian make. And we follow behind. The first stop is at his house to get his gear and prepare the car. We entertain the family with the dogs, Duco is always guaranteed success with kids. It is Jupar's youngest birthday, he turns two, and of course we have to share in the birthday cake and tea. Around noon we are ready to leave. One stop at the gas station to fill up his van and we are on our way to the park.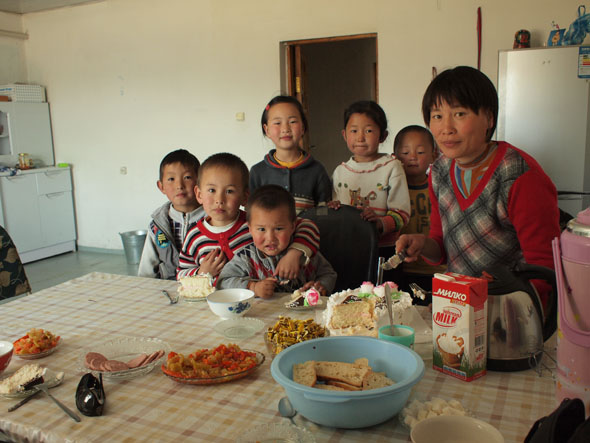 The track is indeed not so hard to find, but what a beautiful drive. The weather has cleared significantly and even the wind is almost gone. The colours on the hills are intriguing: green, pink, brown, yellow, black. The track is bumpy and sometimes sandy until we reach the valley and follow a stony path along the river. There is still snow and ice on an near it. People are fishing for something that looks like trout.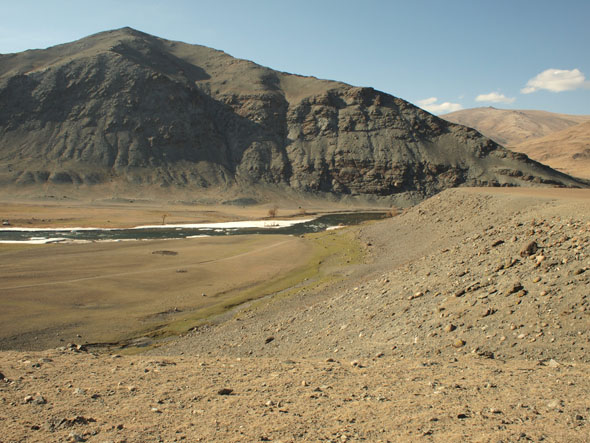 On the way Jupar picks up two kids that get handed over from another car. They are on their way home for the summer and simply go from car to car until they reach home. Jupar doesn't know them but that is not a problem at all. Just like it is completely normal to stop at any ger for tea, food or a place to sleep, just depending on the time of day. We stop at three nomad families, we have to sit on the little stools at the north side of the ger, the place specially for guests. And drink tea, lots of tea. Jupar drinks at least 20 cups a day. They drink milk tea, that is tea with lots of milk from cow, goat, yak or camel or all those mixed together. We don't really like it but you cannot always decline when offered, that would be too impolite. The low table is always loaded with bread, cheeses, milk, yoghurt, sour cream and one or more plates with sweets. Also this is there for everyone to eat, the whole day through.
At the end of the day we have reached the park entrance, next to a very artfully made wooden bridge. Jupas sleeps at the ranger and her family's ger. We make our little camp 20 meters away and have a nice sleep in our own little house.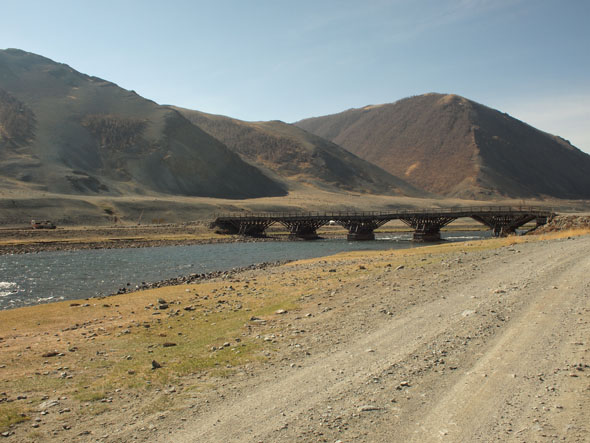 The next morning at 9.30 am Jupar is standing before the bridge, waiting for us to get back from our morning stroll. But he hasn't made it there unharmed. This morning he fell against the hot stove with a big bowl of boiling water on top of it. It spilled over his arm and back and he is severely burnt, or so we imagine. Despite us telling him to turn back, go see a doctor he insist on continuing the trip. The burns have been treated with sheep dung. That is the way they do things here in the countryside. I don't think I could be so cheerful if it had been me, but we think is is old and wise enough to look after himself. So we set off again, over beautiful mountains, little bridges, along flowing rivers. We visit some bolbols, this are gravestones made by the Turks in the 6-10th century te honour important persons. Without guide they are hard to find, but Japur knows his stuff.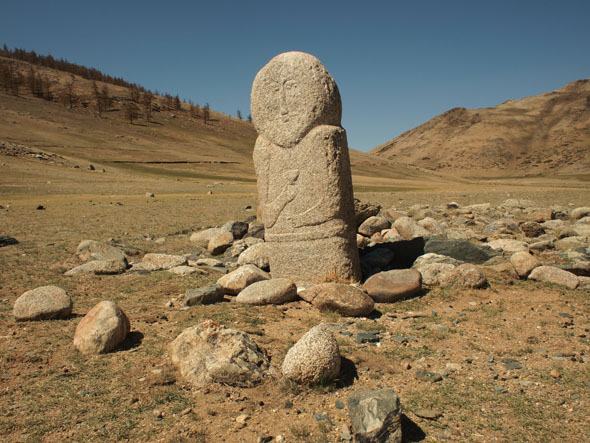 Also here we find more gers and more families and one of the men treats Jupar's arm with fresh cow dung, apparently better than sheeps dung. And not a thin layer either, he really packs it up. It will probably help to keep it cool we think...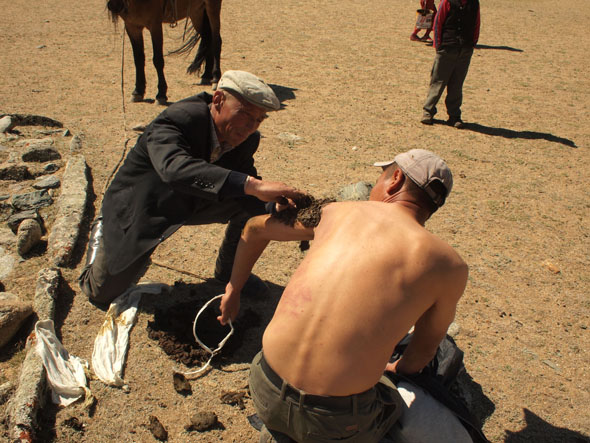 At one of the families we are invited to watch the combing of the goats for cashmere wool. As you can see they are a cheerful lot, although we were not sure the goats where joining in the fun. What we noticed with this family also is that they look more European than Asian. In this region most people are Kazak and not Mongols. We are curious to see how this will be further east.
That afternoon we stop at Hurgan lake, mostly still covered with ice! We did not expect that end of May but it is normal for this time of year, or so we are told. But the sun is out, the wind is low so all is well. We sit on top of a rock, enjoying a glass of wine and receiving visitors, local herdsmen who are curious to see who these tourists are. And they all want their picture taken as soon as they spot a camera. The same with the families we visit, they are not satisfied until everyone has his or her picture taken with everyone else.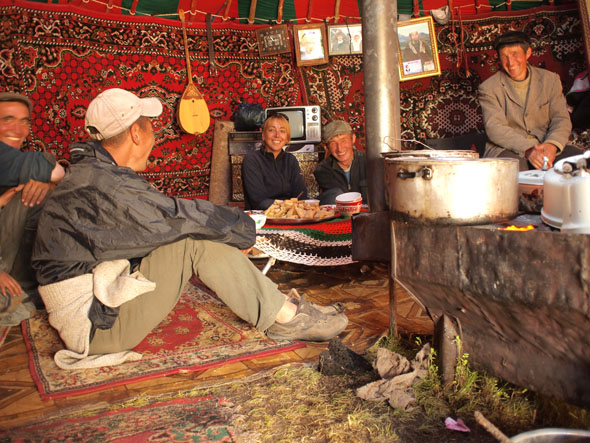 Back at the car we suddenly notice diesel leaking from the main tank. Not a lot, but a steady drip. Shit, now what! We've just solved one problem and the next one is here. We cannot locate the leak, on the tank is a protection plate and it appears to be leaking somewhere under the plate. That makes it impossible to determine if it is just a tiny hole or maybe a crack that could easily get bigger. Our moods take a turn for the worse, mainly because we don't know what would be wise. Return to Olgii, remove the tank. Just continue the trip, we are not losing so much fuel (yet). In the end we decide to shorten the trip a little bit and return to Olgii by our planned route in two days.
And so it goes. We have two very enjoyable days with may beautiful sights and nice encounters. We watch a Kazak family built up their ger. It shows that they have done it more often, several times a year they move, in the summer and winter, but there is also a special place where their animals give birth to their young. Here they have large stone buildings with a roof; no windows so that must be really dark (and smelly).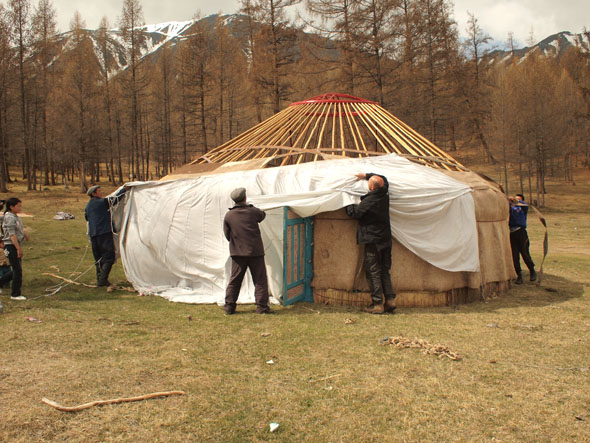 We see more bolbols and deerstones, have to drive through a number of rivers, some are quite specteculair and on our last night we even get snow, with a bitterly cold eastern wind, almost gale force.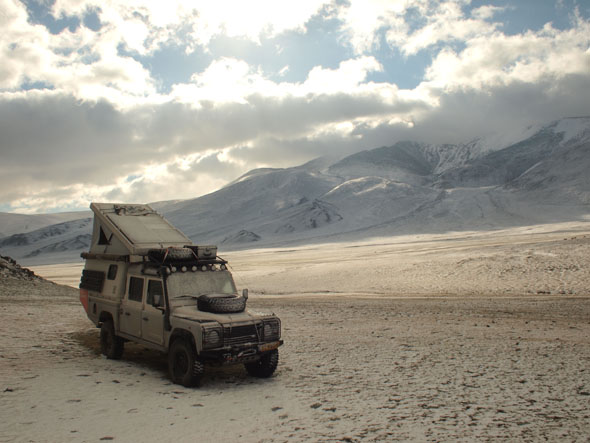 Luckily the weather has cleared the next morning so we can still enjoy the views. We drive up tot 2828 m, the highest top so far on our trip. We are almost blown over but the view is worth it. Also we visit an eagle hunter. In this region some people hunt with eagles, mainly foxes. The hunting season is in the wintertime from October till February so we cannot see them at work, but we do get to see the beautiful bird up close. She is huge, and just look at those feet. They only use females, they are bigger and more aggressive in the hunt.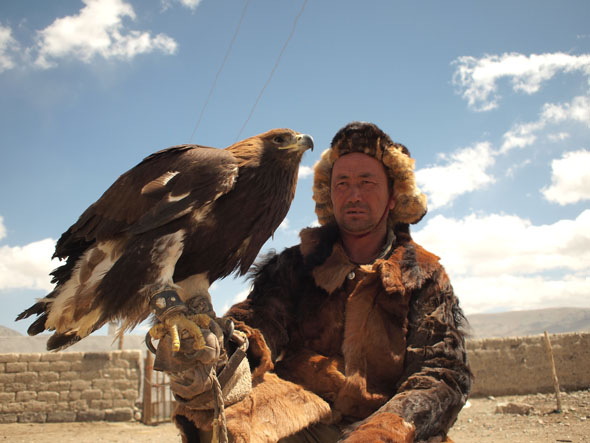 Friday afternoon around 2 pm we are back in Olgii and Emiel gets to work on the tank. The plan is to remove it, remove the protection plate, find out what is wrong, find a welder (normal metal, so hopefully they can at least do that) and put it back. Unfortunately luck is not on our side. When removing the tank something crucial breaks off and the protection plate cannot be removed, it is glued on. Had there been a capable and smart welder in town then maybe he could have fixed it, but there is no such welder to be found. They don't understand what they have to do and the welding they do is heart wrenching, burning holes in the metal (luckily not in our tank). Emiel really regrets taking it off, we should have just driven on to Ulaanbaatar (UB) and fix it over there. But it is too late for that.
So it is time for emergency plan B. He thinks he can reconfigure the system so that we take the diesel from the extra tanks. The system we have is so that we have to pump the diesel from the extra tanks into the main tank, the pump cannot get it out of the extra tanks. With hindsight that would have been a better idea. After conferring with Paul, our technical support back home, Emiel gets down to it and at 10 pm the job is finished. Paul will send a new main tank to UB and until then we will use the extra tanks. We spend the night in the yard of our guide. These are the not so nice things of traveling, but we know from experience, it is all part of the deal.
Magnificent Mongolia destroys more than we can fix, but (s)he who has saved a goat, has not travelled in vein.
How to start this story. I'm sure you must all be wondering what in heaven's name happened to make us break off our trip through Mongolia and return to Holland. Everything was under control. Emiel had fixed the bypasses around the main diesel tank, Paul was going to send a new one to UB, so what could be the problem? Let me start with explaining how we came to this decision. And after that I will write the story of our final days in Mongolia and the way back through Russia, because there is still enough to tell.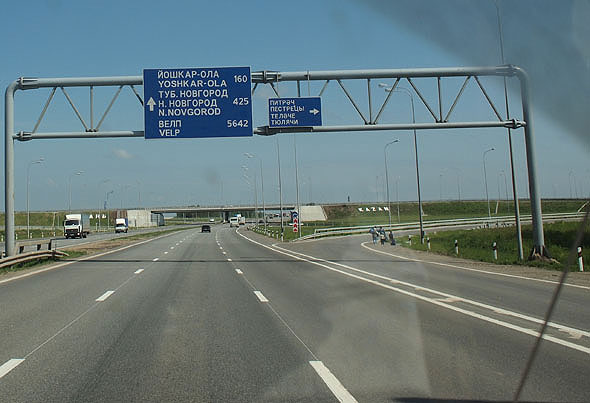 As you know we have travelled many thousands of miles over bad roads and rough off-road tracks. These miles have left their mark; the mounting brackets that hold the camper unit are broken off. The unit is no longer fixed to the chassis, we had to tie it down with straps. On a reasonable road not an ideal situation, in rough terrain very unnerving. Not only did we fear the damage would be even more extended (and expensive) if we carried on; it was outright dangerous. Looking back we think that time in Kazakhstan when we were stuck in the mud and had to winch ourselves out, started this problem. The whole construction was put under such strain that probably the brackets already received their first blow. The double diesel trouble added to our worries. Emiel's solution of bypassing the main tank worked out well (though we had one more hick up that he had to fix), some minor leakages, but nothing serious. Unfortunately it was so crazy expensive to send the tank to UB (more than 1200 euros) that we decided against it. So we were left with a much smaller capacity for diesel, right at the time when we needed it to get to UB, especially in view of the shortage of diesel (more about this in a minute). And if we managed to get there, then that would have been the end of our Mongolian adventure anyway. With the Land Rover in this condition and under these circumstances the Gobi desert was not an option. That was also an important part to decide to turn back. Maybe we could have made it to UB but what for? The city itself was never a dream destination for us.
On top of that Russia decided to stop the export of diesel to Mongolia, to put pressure on the government in some (probably totally unrelated) conflict. So the diesel was on 'distribution' (not sure how to call it); you had to have vouchers to be allowed to buy some of the diesel they still had left. We didn't have those. That meant asking around, begging, pleading to get a few litres of diesel. But with 30 litres you don't get very far in a country as big as Mongolia. Because the main tank was out of order, also the fuel gauge was not working, which made it even harder to calculate how much diesel we were using and how much we had left.
The combination of all these thing made that we crawled over the tracks, feeling very restless and worried, alert to every sound, one eye on the clock how many miles we had covered, how many still to go until the next town where hopefully we could find some diesel. To cut a long story short, it was no fun anymore. And that is what is should be all about; we are not traveling to be able to say 'we've been to this and this place' but to enjoy getting there. And we did not. On the route we had chosen we drove for days and hardly met a living soul, so if we had broken down or run out of diesel, we would have been completely on our own. Being with the dogs also complicated this, we love them dearly and they've been great, but we would not take them on such a trip again, both for their and our sakes. All in all we thought we were taking too many risks, time to head back.
So couldn't we have fixed things is Russia. Maybe, but sending the diesel tank there was even more expensive and complicated. And we had a difficult time communicating with the Russians, not only because of the language, their whole attitude we found difficult to handle. And going back into Mongolia after we left was not an option, we only had single entry visas. So we decided we'd rather go back home to have it repaired the way we want. Of course we regret how it turned out, but we don't feel our journey has been a failure. We really enjoyed Kazakhstan, the Altai was splendid and the time in Mongolia, even though much too short, was very special. We might return some day, but we will certainly take a different route!
28 May - 14 June: Olgii, Tolbo, Hovd, Ulaangom, Dzuungov, Turgen, Hovd Achit (Mongolia), Ortopyk, Aya, Novosibirsk, Omsk, Tyumen, Ekaterinburg, Perm, Kazan, Nizny Novgorod, Tver, St. Petersburg (Russia), Kosta, Helsinki (Finland)
That morning we say goodbye to Japur and his family and very slowly and carefully drive off. We keep our fingers crossed the bypasses will hold. First we find a place to walk the dogs, it is never a pleasure to walk them in a town, but over here it is really bothersome, everywhere there is broken glass. It is a miracle that we did not have to treat any cuts yet. So far so good but when we are back from the walk we see there's diesel leaking at two points. Shit! But Emiel thinks he knows what could be the problem and how to fix it, but it will take some time. First we drive to a place a little more level. Wrong plan! Suddenly one of the hoses in the car comes loose and the diesel is gushing out into the cabin. We will smell the diesel for a long time to come… There's nothing for it; Emiel gets back in his smelly (diesel!) overalls and gets to work. It has to do with the connections for the breather hoses and return hoses (with a diesel engine also a lot of diesel flows back to the tank). It takes him several hours and a lot of hard thinking and creativity to get it fixed with the materials available. At least the weather is nice and not too windy. No visitors here either, which is a good thing, Emiel appears not to be in the mood for some 'good advice'.
Even though the afternoon is almost gone, we have seen enough of Olgii and drive off towards Hovd, 250 k south east. From there we want to take the road north towards Ulaangom. We decided to take the north road to UB, we think it will be beautiful and we will do part of the south route when we will explore the Gobi. We are both tense, hoping it will all hold. Emiel pulls over from time to time to check. All seems well. We don't make much progress that day, the road is badly corrugated, and we are both tired from the tension. So as soon as the traffic and gers have petered out, we pull off the road and call it a day.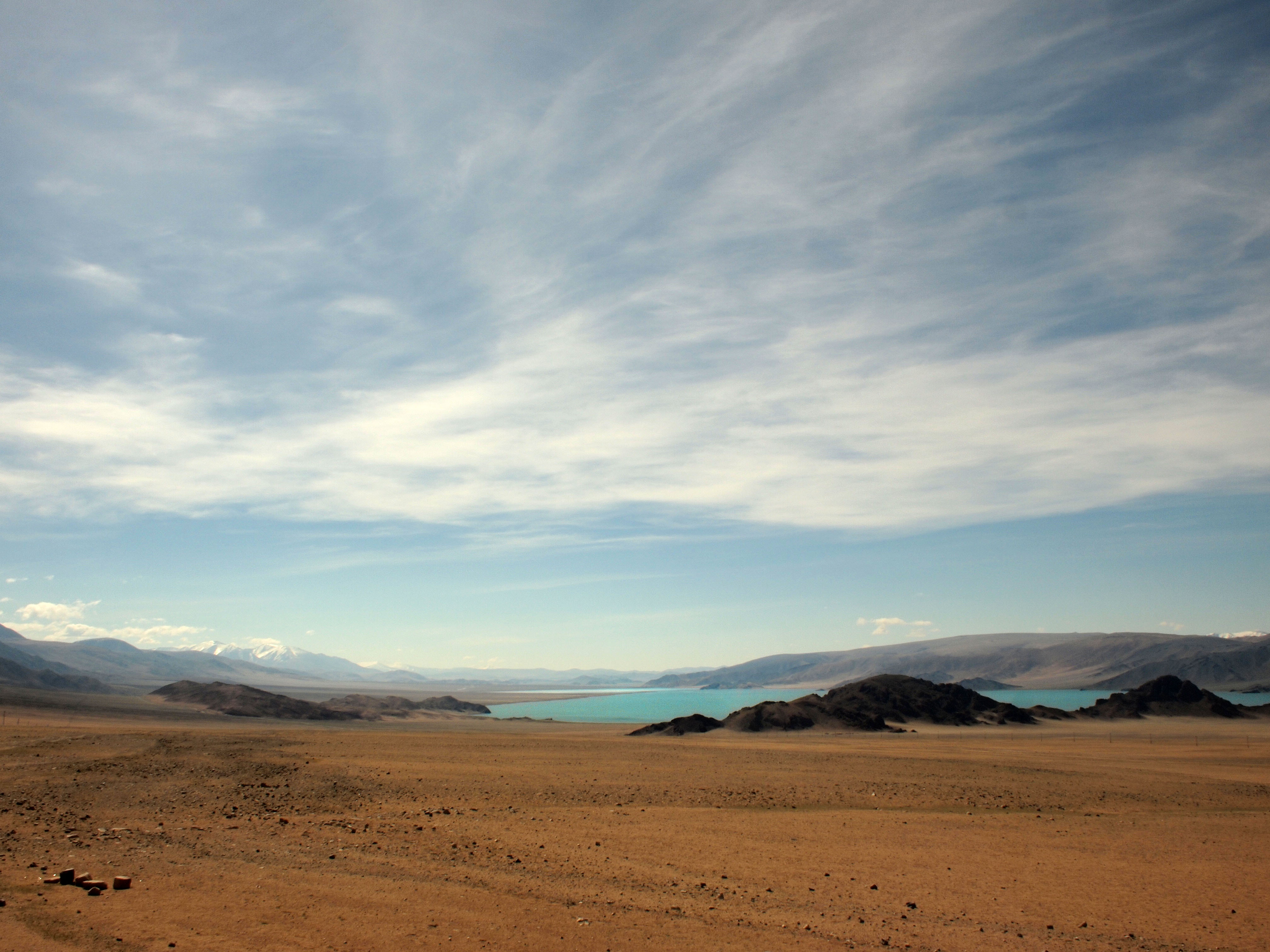 The road to Hovd the next day is beautiful, although at times it is difficult to find the right track. The map on the GPS appears past its sell-by date. Often we are way off the GPS track but asking other drivers and sometimes at a little village convinces us we are heading the right way. A couple of hours before we reach Hovd we suddenly see a little black baby goat, all by itself. At some distance there is a flock of sheep and goats grazing and further back there is a little village, but not a shepherd in sight. We cannot leave this poor creature, only a few days old by the look of it. So I get out and scoop it up and get in the car, which leads to much consternation in the back, especially with Syma. I cuddle the little creature who lets out a small 'behh' from time to time. We set him of her down beside the sheep and goats to see if in one of the goats some mother instinct is awakened. But nothing happens, they just walk away leaving the little orphan standing. So back into the car to see if at the village someone is missing a baby goat.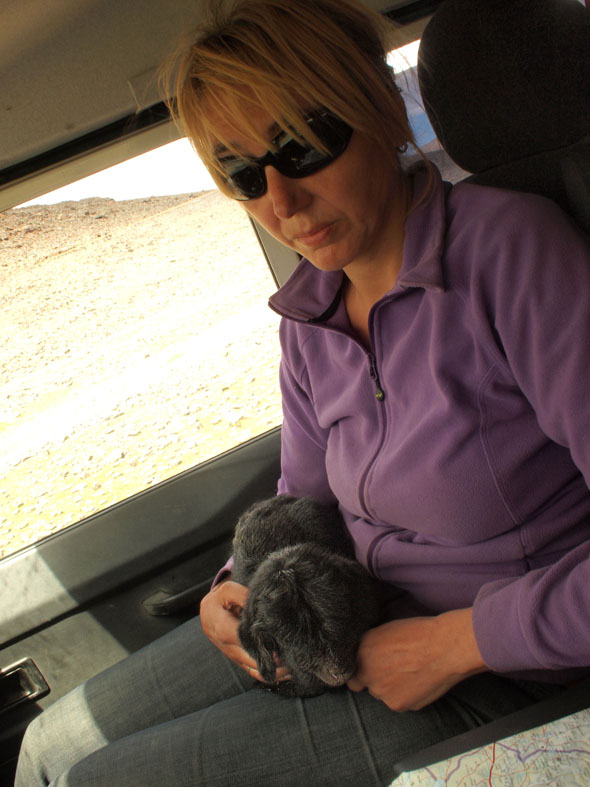 In one of the little huts a older man and young woman are combing goats and as soon as the woman sees me approaching holding the goat her face lights up in one big smile and she takes it from me holding it close to her. We still don't know if they were the rightful owners or not but we are confident we left it in good hands. So one good deed done! Syma is in a state for the next few hours and keeps checking where the hell that little goat has gone!
In Hovd we only want to do some shopping and then continue on towards Ulaangom. We stop at the market and are done in 15 minutes. Back at the car we get a big scare, there is a big poodle of something underneath the car and also some bystanders are pointing something is amiss. 'Diesel!' is our first thought, as you might understand. G#@!$ just now we've grown a little less anxious and building up confidence that the system is working! But as soon as we have reached the car we smell it is not diesel, it is water. The water tank has sprung a leak. How, we've got no idea but it is a big leak too. Also not good but less dramatic than another diesel leak. We sigh, another thing to fix. So no driving on towards Ulaangom today. We decide to stop here for the day for repairs. But first we want to get some diesel. Now we only have the extra tanks we plan to fill up at every town or village we come across. Filling up the tanks is a challenge because of the breather pipe-problem. You have to do it very slowly to make sure it doesn't gush out. At the first petrol station no diesel. Strange, but I guess it can happen. Second, third, fourth… no diesel. What is going on? It is a Sunday, maybe you are not allowed to buy fuel on a Sunday? Or maybe there is no power?? We leave it for now, we'll try again tomorrow morning. At the river that flows past the city we find a good camping spot with nice soft green grass. We drain the water tank and fix it with ductape. With water from the river we fill it up again and it appears to hold. This should do it for now.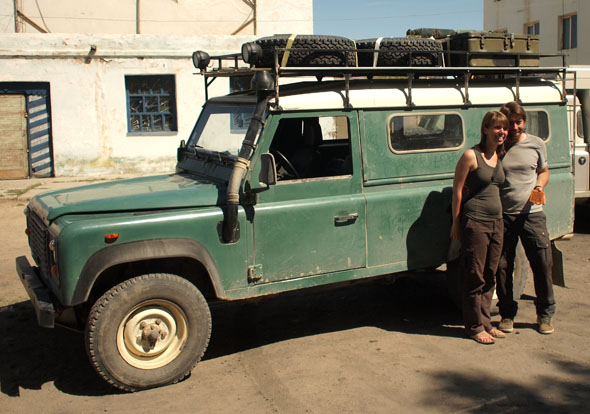 The next morning in the town hunting for diesel we suddenly see another Land Rover Defender, wow other overlanders! We pull over for a chat with Lynn and Gilles from Belgium. They are driving down from UB on their way to Russia. They fill us in on the diesel problem; there is no more diesel, only with vouchers (available in UB?). They have had this problem for days already. We never noticed it in Olgii, but then again it is a week ago already when we could easily buy 120 litres. We think we can ease their minds that in Olgii there still must be diesel available, they should be able to reach it with the fuel they still have left. They also tell us that the first part of the southern route is horrible, which confirms our plans to take the northern route. We both feel better after talking with them, we really miss this contact, just a chat with fellow travellers, it is only the second time in all those weeks. After an hour we say goodbye and carry on with our diesel quest. There is still one petrol station we haven't tried yet. We get lucky, he sells us 25 litres, albeit for a price way beyond the regular price, the beautiful principles of a market economy...
Then on to Ulaangom. A long 235 k! Halfway we bump into some local guys who have just fixed a flat tyre and are using a hand pump to pump it up. We have our own problems but here we can help. With our compressor the tyre is pumped up in no time. When they pick up the tyre to put it back on the truck they find out one of their coats is stuck between the rim and tyre. Instead of letting out the air to save the coat they just tear is off, laughing their heads off in the process... well, whatever makes them happy ;)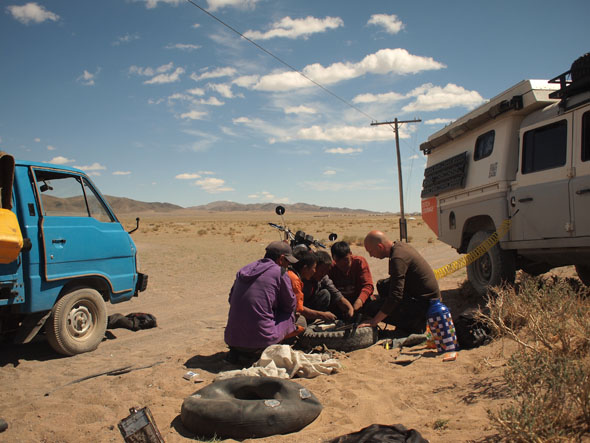 A few kilometres down the road we stop for lunch and - while checking the diesel pipes and water tank- Emiel discovers a new, and really nasty, problem. The mounting brackets at the front of the camper unit have broken off. This track with so much horrible corrugation proved to be too much. We cannot continue driving like this. After some thought we use some smaller and one big strap to tie the unit to the cassis. Our beautiful Land Rover turned into some kind of praline with a big ribbon around it ☹ And off we go, with one eye on the camper unit in the rear view mirrors, one eye on the speedometer to see how many miles we have covered and how many are left, and what is left focussed on the water tank to see if it is still leaking. We have known times of more relaxed driving....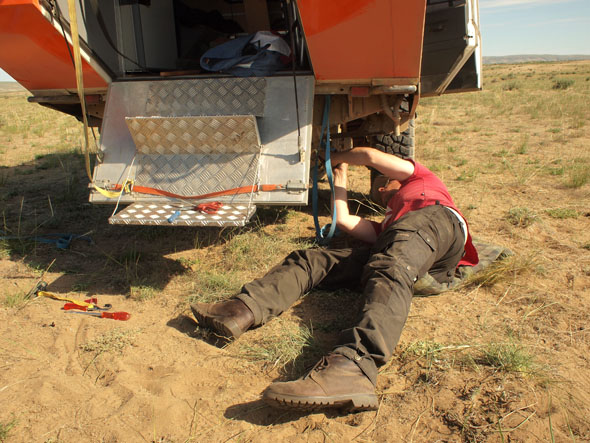 The time is slipping through our fingers and we have to adjust our speed to spare the car on the terrible road. Especially the last 20 k before Ulaangom are horrible. It looks like you are driving through a coal mine, everything is black and there are potholes and bumps and of course heavy corrugation, what a treat! It is high time to stop for the night but this place is not an option. So we carry on, through the town, trying to find a place to drive off the road. It takes forever. Finally we have left the gers and houses behind and we turn left. It is not a very cheerful place, but maybe our moods contribute to that too. We stop and get the dogs out, they are in desperate need of a pee and food. I walk in the dusk and suddenly see bones lying around. This is not uncommon, you find bones of goats, sheep, horses, camels, who have not made it, everywhere, but this time it is different, I clearly see human skulls. I shudder at the thought what might have happened here, but it appears we have parked on a burial site. We have noticed before that they are not too worried about burying their relatives properly and it appears beast get to the bones and scatter them. We get into the car and move it a few hundred meters. Driving further is not an option, but this must be the most unpleasant bush camp we ever had travelling around all these years! Even the shooting range in Senegal was not so bad, if only because we only found out the next morning ;) In the morning light it all looks a bit less grim, we cheer each other up. Back to the town to find diesel and pick up the track east. With lots of begging, asking, searching we manage to find a few litres and we buy a jerry can to take another 10 litres. We hope it will be enough to get to Moron, the next bigger town 800 km down the track. And then another 800 to UB. In the back of our minds we begin to doubt of this is still a good idea. We set out anyway and we actually do enjoy parts of the road that are quite beautiful, at least on that count we were right. Navigating is a challenge, which normally is fun, but under the circumstances it is not really relaxed, you don't want to make a mistake that will lead to detours of tens of kilometres. With GPS and the map you always get where you want to be in the end, but right now we just want to pick the right track straight away. After a long day driving we have covered 117 k and met only one shepherd. Our choice for the northern route is maybe not the best in this case. In the meantime we get the message from Paul that it is going to be extremely expensive to send the diesel tank to UB, so much so that we decide against it. That evening when inspecting all the hoses, straps and water leaks Emiel finds out that also the mounting brackets on the backside of the camper unit have broken off. So in effect the unit is not connected to the chassis anymore. We also notice other points are showing signs of extreme wear and tear, we are destroying more and more on these roads. We have to face it, to continue like this is no longer an option. It is a very emotional and difficult decision. We have come so far and Mongolia is really something. You don't want to have to think about it but after much arguing back and forth we come to the - in our eyes inevitable - conclusion that it would be irresponsible to carry on. We turn back, out of Mongolia into Russia and then we will take it from there. Back to Ulaangom!
So that is what we do the next morning. Emiel first spends another hour or so underneath the Land Rover, securing the back of the unit as well as he can with the last few remaining straps. We follow our own track so navigating is easy, we know exactly where we can and cannot take a shortcut. So much quicker than yesterday we are back in Ulaangom. We don't manage to find any more diesel this time, one of the guys is actually laughing in our faces, maybe he thinks we are Russian. After consulting the map and the GPS we have decided on the road that leads us straight to the border with Russia, we don't have to drive back to Olgii, that saves some kilometres. We think we should be able to get there with the diesel we have left. We leave Ulaangom behind and find a much better place for a bush camp, also we don't have to drive through that horrible 'coals mine' so that is good.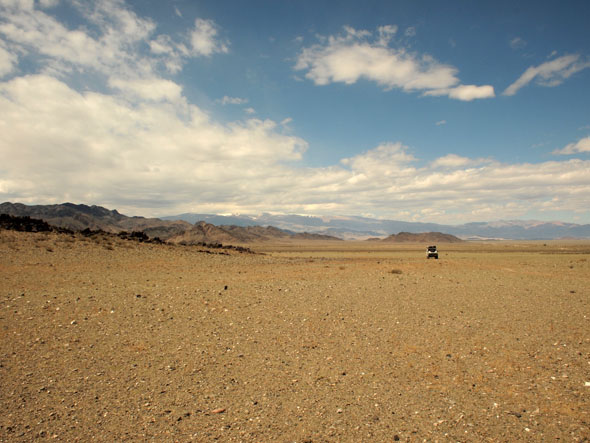 The drive towards the border the next day is again stunning. We drive past a lake so incredibly blue with snow-capped mountains in the back, it seems unreal. The track is also incredible, but not in a positive way. We hardly manage an average of 20 k an hour. Well, at least it is economical, so we tell ourselves. And one thing we have plenty of is time. Around noon when it is time for lunch we suddenly see green scrubs and even something looking like trees. Good for the dogs, they will like something to lift their leg for a pee. Duco has taken to peeing like a girl, if there is nothing to pee against, what is the use of lifting your leg? Even our macho Syma sometimes does it. "I can hear water running" Emiel suddenly says. And indeed, there is a river.
Nice, you would think. Only, we have to cross it. We check it out and it appears quite deep and it is flowing really fast. There are some tyre tracks, it seems like cars have crossed, but we have no way of knowing if they are recent, maybe the river is higher than normal with melting snow? There are several streams to cross and all of them look pretty intimidating. We drive around a bit to see if there is a more obvious place to cross and decide that we really have to 'test the waters', walk the way to see how deep it really is and what the underground is like. Dressed only in t-shirt and pantyhose and on trainers with a rope tied around my middle (no pictures were allowed to be taken!) I go for it. If I fall at least Emiel can get me back to the shore. I can only take about 4 steps until the water is up my thighs and the current is pushing me over. Back on dry land we have to conclude that crossing it is not an option. We look around in the area for any gers, maybe there they can tell us if there is a crossing somewhere. The people tell us that it is the same everywhere, pointing to their chests that it is this high. They are not very tall people, but it will surely be way above my middle and with the current being so strong it would be most unwise to try. There is also not a truck anywhere, otherwise they could have pulled us through. There is nothing for it, we have to turn back, 35 k before the border! This is really no fun! The map does show the river, but it is a big track we are following (on the map it is a major road) and we never expected there would be no bridge or crossing point. We think we still have enough diesel to make it back to Ulaangom, but then what? We study the map and GPS and suddenly remember Jupar telling us about a shortcut from Olgii to Ulaangom. We are not too far from that track, we could pick it up about 15k back. But how do we know there will be no other rivers to cross? The map is not showing any, but on the GPS there are several streams. Most of the time they are just dry river beds, but as we just found out, this is not always the case. We cannot afford to make another wrong choice, then we really will run out of fuel. By sheer coincidence we have a GSM signal (we found out because we suddenly received a SMS) and we call Jupar who fortunately is at home and ask him if he can tell us about this route, if we can do it. He says we can, as long as we stay east of Achit lake. We calculate again and again and think we can make it to Olgii with the remaining diesel, as long as we keep driving very slowly. The road and condition of the car are forcing us to do this anyway, so that's not an issue.
We find the track and drive passed the two points that the GPS indicates as streams, we want to be absolutely sure there will be no more trouble. Around 8 pm we stop for the night at a place also called Hovd (very common here, different town or villages with exactly the same name). Not the most obvious place for a bush camp but there is a nice green spot just outside the village. We get some visitors; two guys who want to write something on our blackboard and there is also another guy hanging around, but he doesn't say anything and leaves. A little later when we are inside preparing some food we hear someone walking around the car whistling. When we don't react he knocks on the door. It is the same guy, now back with two pieces of bread for the dogs and he wants to take of picture of them. Isn't that sweet! Later on when we finished dinner he shows Emiel how to hold the telephone to pick up the GSM signal to be able to send an SMS.
The next day we drive another 3 hours and reach Olgii. So happy as we were leaving it behind a couple of days ago, so glad we are now to see it again! And even better, we find a gas station with diesel and the owner sells us enough to make it to the border. We could kiss him! Again the price is very inflated, but at this moment we really don't care. And so we leave Mongolia by the same road that we entered two weeks ago, not quite what we had planned! About 20 k before the border we meet another Land Rover with Dutch licence plates, two guys driving towards Olgii. We tell them about our diesel problems, not a very cheerful message when you just arrive in Mongolia, but it is better to know than being stranded somewhere. We hope for them and all the others traveling there that this issue in the meantime has been resolved. Around 4 pm we have reached the border and it all goes very smooth. When the custom's guy asks us if we have already reported the dogs we just say 'yes' that spares us a lot of time. At the Russian side the same guy that so diligently copied their passports when we left is on duty and waves us through. And then we are back on Russian soil and have asphalt under the tyres, we have never been so relieved to be on a decent road!
The long road through Russia lies ahead of us, 5500 km to the border with Finland. We have looked at the maps; we don't want to go through the Ukraine again and neither through Belarus, we don't even know if we need visas for that. The ferry from Helsinki to Travemunde seems a nice option, that will save us some driving. Onno looks into it for us and we decide to go for it. After that it is only a mere 450 k home! The first part of the road, through the Altai again, is good and very scenic. Spring has made a lot of progress in the past weeks, everything has turned green. Unfortunately also the mosquitos have awakened. The weather is hot and humid, ideal situation for them, less ideal for us. Almost every day we have rain, hail and thunderstorms, When there is some wind the mosquitos are not too bad but in the evening when it dies down it is impossible to be outside, only wrapped in trousers, jackets, hats and every single body part that is unprotected covered with DEET. A sanitary stop is a challenge that the mosquitos sometimes win. Even the dogs don't like it and are keen to get into the car. Our second day in the Altai we are in the middle of a huge hail storm, the stones the size of cherries, for a moment we are afraid they will be golf ball size, looking how black the sky is, but we are spared.
The whole part (about 2000 k) between Novosibirsk and Ekaterinburg is pretty boring and monotonous: grass and birch trees, birch trees and grass, and mosquitos of course. But the drive through the Orals (no high mountains only some hills) is pleasant. We manage to find some nice places for bush camps, sometimes with millions, sometimes only a few hundred mosquitos. Not much sitting outside despite the warm weather.
Russians love a picnic and camping, and they do it in great numbers with lots of food and drink. However, they also like to leave everything that contained this food and drink, and maybe also some rubbish they still had at home, behind. So especially in the nice spots, near a river or a lake, where many people come to spend a nice afternoon, evening or weekend, it is a horrible mess. Apparently it does not bother them, but after a while, it really bothers us a lot. You have to search for a place where you don't feel you are camping on a dump site. Also building materials are left at any available place, a turn off from the highway, a little track through the woods, everywhere you go you always have to wade through the dirt. You have to keep the dogs on a short leash so they don't go nosing around the broken glass and bits of plastic with food. How in heaven's name are they ever going to clean up this country? I don't think they ever will feel the need, also houses, factories, apartment buildings that are no longer in use are just abandoned and slowly fall apart. The country is simply too big, it is easy enough to move to a new plot of land to start again. And also around the houses it is often very messy, the vegetable plots look well kept, but that seems to be all that matters to them.
One day we have a scary moment when we suddenly drive into a heavy rainstorm, next to a truck. He hits a very deep rut in the road and sends a real wave of water, like you drive into a river, over our windshield. For a moment we don't see anything and all Emiel can do is keep a straight course and speed up to drive out off it. The adrenaline is pumping, but luckily it ends well. We witness another thing that has not ended well, a head-on collision between a car and a truck. The car driver cannot possible have survived looking at the wreckage. If you see how they drive, and especially overtake, we are not surprised. It is more a surprise that we did not see it more often. Russian drivers must think they are invulnerable. Many times we have to hit the brakes, they overtake you left and right, whether there is upcoming traffic or not. And they are so totally self absorbed, everyone must just get out of their way and if you cannot, well that is your problem. We have driven in many countries where the rules are - how shall I say - more freely interpreted. But at least there you feel they consider each other. Not here! We end up driving past Moscow and St. Petersburg. With the dogs and the hot weather it is not an option to visit these huge cities. We cannot leave them in the car (because of the heat) and just driving into town costs a day, and another one driving out. Museums, restaurants, hotels, all difficult or impossible with the doggies, and these are the places you would want to see. We miss out on a part of Russia that might have altered our view of the country and the people, we realize it very well. We promise ourselves we will go and visit St Petersburg soon, but then with a city trip, flying in with no dogs.
And so we find ourselves at the Russian - Finnish border. The last time filling out all the paperwork. It takes a long time because, believe it or not, instead of too few, we now have too many papers with us. We have one form that we have had since we entered Russia the first time. At every border post they took a close look at is, stamped it and told us to make sure we handed it in when leaving the country. But nobody ever wanted it and they gave it back to us each and every time. And now this is a problem. We are ordered to wait 20 minutes. Emiel gets angry, why should we have to wait 20 minutes because of their stupid bureaucratic rules. I cannot blame him. In the end they have fixed it in 10 minutes. We fill out a new form they stamp it, and we get to take it with us. Nobody wants it back. What we are supposed to do with it? Any ideas anyone?? One last check at the customs, no interest in the dogs again (good!) and for the very first time a lady wants to know what is in the case on top of the roof. 'Dog food' says Emiel. She wants to check. That is fine, but the case is bolted to the roof rack, so she will have to climb up. She is rather big and doesn't really want to, but Emiel insists. You want to check, you come up! In the meantime all the bystanders are having a good time, they have followed the whole thing with great interest, there is nothing else to do and some entertainment is always nice! So she cannot really refuse and with some difficulties she climbs up the car and takes a peek inside. Emiel, a gentleman as always, helps her climb down. They have seen enough and we can go. Often it is more difficult to get out of a country than it is getting in.
The Finnish border on the other hand is so quick that we are totally flabbergasted. Nobody wants to look at the car, the dogs, no papers to fill out. There is a passport check and that is it. In two minutes we have crossed the border and we are back in the EU. And to be honest, it is really nice to be in a country that you understand, even if you don't speak the language. Everyone speaks English, the roads are good, it is clean! the houses are in a good state, the gardens are green. Three days in Finland and then on the ferry, home, fix the car and get back on the road. We still have until October!